Takao Kawaguchi: About Kazuo Ohno
Wednesday, October 5, 2016 at 7:30PM
Bowker Auditorium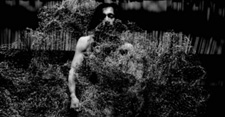 Japanese artist/dancer Takao Kawaguchi re-creates the persona of the legendary Butoh dancer Kazuo Ohno through his most celebrated masterpieces, such as "Admiring La Argentina," "My Mother" and "Dead Sea, Ghost, Wienerwaltz." Capturing Ohno's unique improvisational style for the distinctive features of his body and movements, Kawaguchi projects himself into the forms and shapes of the master Ohno's body.

Ticket Prices
General Admission: $25; Five College and 17 & Under: $10; Five College Faculty & Staff: Please call the Box Office
Tickets on Sale Now!
Performance Website
Artist's Website
Facebook
" it suddenly popped into my head that I wanted to become Kazue Ohno" Japanese artist/dancer Takao Kawaguchi re-creates the persona of the legendary Butoh dancer Kazuo Ohno through his masterpieces such a "Admiring La Argentina" (1977), "My Mother"(1981), and "Dead Sea, Ghost, Wiener waltz" (1985). Capturing Ohno's style that was improvisational and unique for the distinctive features of his body and movements, Kawaguchi projects himself into being into the forms and shapes of the master Ohno's body- reliving the dream. Here copy becomes an original. Audience members are invited to a pre-concert talk at 6:30 p.m. in Bowker Auditorium Outreach: Movement classes and lectures will be offered in conjunction with this event and may be open to public participation and observation as space permits. Please call Asian Arts and Culture Program at 413-577-2486 for information and reservations.
---
Mar 30 2017 07:30p.m.
Bowker Auditorium, Stockbridge Hall, UMass general admission
Shank's Mare presents the unique tradition of Japanese Kuruma Ningyo (cart puppets) in the story of two travelers wandering along the great highway from Tokyo to Kyoto. Created by American puppeteer Tom Lee & Japanese Master Puppeteer Koryu Nishikawa V, this work infuses traditional Kuruma Ningyo puppetry, video projection, and live music to explore themes of life, death, and tradition.
---
Thursday, February 9 at 7:30 p.m.
Fine Arts Center Concert Hall
Featuring Michael Pili Pang and the Halau Hula Ka No'Eau Ensemble. Celebrating 30 years of dance, chants and traditions, Halau Hula Ka Noʻeau captivates audiences with their exquisitely artistic and culturally authentic Hawaiian dance performances. Choreographer and cultural historian Michael Pili Pang, presents a new work based on the traditional legends of Hawaiian gods who were revered as heroes and the creators of the Hawaiian Islands. Pang creates innovative choreography that combines traditional hula, music and chants into high artistic expression.
---
Thursday, October 6 at 7:30p.m.
Fine Arts Center Concert Hall

This Los Angeles based dance company performs their newest evening-length work, Agua Furiosa, challenging the audience to confront the harsh realities of race in our country. Inspired by Shakespeare's The Tempest and Oya, the Afro-Cuban deity of wind and storms, Agua Furiosa merges call and response, a live vocalist, water themes, fierce physicality and the performers' own personal narratives.
---
Sponsors
Funders
The Japan Foundation
,
The Japan Society New York
,
The Agency of Cultural Affairs Japan
.