Wednesday, March 6, 7:30 pm
Fine Arts Center Concert Hall
Kodo is the world's foremost professional taiko drumming company that has singlehandedly played the most important role in popularizing this Japanese art form. Forging new directions for the traditional Japanese drum, Kodo brings a display of raw athleticism and rhythmic mastery to U.S. audiences with their cutting-edge and ever-evolving production, Evolution.

$40, $30, $20; Five College Students and Youth 17 and Under: $15, $12, $10; Under40TIX $20
Prix fixe dinner available at the University Club before the concert. Details at fineartscenter.com/prixfixe. 
Academic Connections: Music and Dance, UMass Asian Languages and Literatures, Five College East Asian Studies, Physics, Theater, School of Education
See all the
Course Connections
Share this event!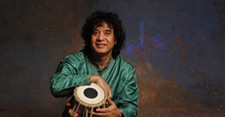 Thursday, April 25, 7:30 pm Fine Arts Center Concert Hall
Classical tabla virtuoso Zakir Hussain returns with his new project exploring world music with some of world's greatest percussionists working within the genre.
---