A Horse Walks Into A Bar
Curated by D. Dominick Lombardi
March 7 - April 12, 2020
Opening Reception Saturday, March 7 from 3 p.m.- 5 p.m.
Closed Friday, March 13 - Monday, March 23 for Spring Break
A Horse Walks Into A Bar
D. Dominick Lombardi, Curator

Humor is not the first thing you think of when researching or discussing Contemporary or Modern Art, but it does have a far more significant place than one might presume. R. Crumb, Peter Saul and Erwin Wurm to name just three, cannot be completely understood without considering their ability to make us smile or laugh. Even the late Picasso paintings and prints had as much humor as they did restlessness, angst or sexual tension in his continued quest for the extreme. A Horse Walked Into a Bar is a survey of some of today's artists who continue to push the boundaries of fine art toward wit and whimsy.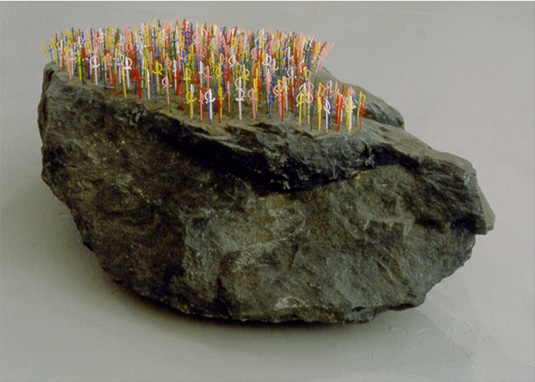 Rock After Excalibur 1997 Matthew Garrison


Isak Applin
Michelle Burdine
Chris Bors
Sally Curcio
Cynthia Consentino
Don Doe
Matthew Garrison
Rina Goldfield
Bill Gusky
Scott Hatt
Todd Herzberg
James Hilger
Amy Johnquest
Maria Karametou
Alex Kvares
Rick Krieger
China Marks
Nicholas Moore
Kirk Nachman
Brian Novatny
Rachel Phillips
David Terry  - all sales go to Youth Climate Strike
Brian Turkowski
Hans Van Meeuwen
Lucy White
Robert Zott
Hampden Gallery
Upcoming Exhibitions and Events
More Information
Hampden Gallery Hours:
Tuesday through Friday: 1 PM to 6 PM
Sunday 2 PM – 5 PM
We are closed for academic breaks (Thanksgiving, Christmas, Spring Break, Summer) and state holidays
Contact Information:
Main Number: (413) 545-0680
Gallery Director, Anne LaPrade Seuthe
Gallery Manager, Sally Curcio