Brooklyn LoL & the BronxMan


Housner ReTRospect Project/ 4Decades


Painting, Art to Wear, Sculpture
Opening Reception Wednesday March 25, 5-7PM
 
For over 50 years, Marlene and Richard Housner's work has been collaborative.  Whether working together on polyester resin sculptures, plaster, or paint they have always moved toward new horizons.  Thriving in the pioneering loft decade of the '60s in New York City, the Housners studied at Hunter College with pace-setters: William Baziotes, Ray Parker, Gabor Peterdi, Richard Lippold, Ponce de Leon, George Surgarman, Eugene Goosen and William Rubin.  Marlene and Richard recall, " It was the time of Rauschenberg and Jasper Johns parties, Oldenburg's store, Kaprow's happenings, Merce Cunningham/John Cage collaborations with emerging artists like Warhol, Judson Hall Friday night concerts/frontiers of Twyla Tharp, and Trisha Brown performance art and dance events. One's
Art
was the way of life."  
Throughout that period, Marlene and Richard taught art, and worked in set and costume design & construction. Then, in the early 1970s, they moved to Heath, MA.  While in western Massachusetts, Marlene exhibited extensively and served as director for the UMass Arts Council in the 1990s.  Richard's work however, took a turn as he applied his sculptor's insights to the human condition and began a productive career as a psychotherapist.  But, even in his new role, he continued to work closely with Marlene.  
In 1995, relocating to New Mexico, Marlene's attention shifted to producing an impressive body of art to wear.  In developing this line of
Artwearables
, she tapped into a vocabulary that merges the antique and traditional with the new and unusual, taking a painter's revisionist approach to clothing construction. Once more, Richard's vision is the perfect companion as he designs and creates explosive copper sculpture hangers to stage and present Marlene's works. The couple returned to New England in 2000 for yet a new venture into their mutual pursuits and individualized departures. As Marlene says, "It's the process that is the most exciting."    "It has always worked well for us," Richard concluded.
Marlene Housner's website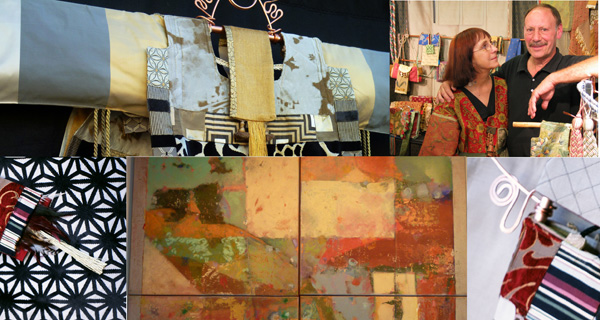 More Information
Gallery Hours:
Mondays & Tuesdays 1-7 pm; Wednesdays through Fridays 1-5 pm
Contact Information:
103 New Africa House
University of Massachusetts
180 Infirmary Way
Amherst, MA 01003 
(413) 545-5177

 
Gallery Director, Dr. Terry Jenoure
Gallery Manager, Alexia Cota
 
For GPS and mapquest:
180 Infirmary Way
Amherst, MA 01003