Matcha Tea
October 17, Fine Arts Center Lobby (One ticket price for both events)
$10; Five College/GCC/STCC: $5
Mary Lou and Robert Heiss are adventurous tea trekkers; tea educators; and co-owners of Tea Trekker and http://www.teatrekker.com/, a nationally recognized resource for premium hand-crafted tea and unique tea wares located in Northampton, MA.

Matcha: Japan's Elite Green Tea -Talk with Slide show 6:00 p.m.-7:00 p.m.
Matcha, the powdered green tea is a focal point in the Japanese tea ceremony Chanoyu, a uniquely Japanese tea practice since the 15th and 16th centuries. The serving of "Matcha" during this formal ceremony gave the tea prestige and carved a national identity for it. Despite its long history and importance, the understanding of real Matcha is being diluted today according to Tea masters.
 
Enjoy a Cup of Matcha 7:30 p.m.-8:30 p.m.
Sample a taste of authentic stone-ground Matcha that has been created by a Matcha specialist in Kyoto, Japan, exclusively for sale at "Tea Trekker" in Northampton.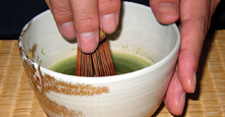 Connect