MIGUEL ZENON'S IDENTITIES BIG BAND

Thursday, February 11 at 7:30 p.m., Fine Arts Center Concert Hall, Chamber Seating

Saxophonist Miguel Zenón offers his most ambitious project yet with a song cycle for his quartet augmented by a 12-piece big band. The evening-length work explores the experience of Puerto Ricans who have moved to the mainland, particularly New York City. Zenón is the most celebrated altoist of his generation, a multi-Grammy nominee and Guggenheim and MacArthur "Genius" Fellow who has extended jazz's conceptual reach with a series of albums exploring the music of Puerto Rico, where he was born.
 

Please also join us for:
 Wednesday,

February 10, 2016 from 7 – 8 pm, 

Holyoke Public Library
             The Holyoke Public Library and the Center for Puerto Rican Studies (CENTRO) together with the FAC will host 
            
Miguel 
Zenón for a community conversation about identity. As Zenón asked the question, "What does it mean to be 
Puerto 
Rican in 21
st
-century New York City?", the same question can be asked to Puerto Ricans living in Holyoke. 
The 
evening will include a musical video presentation by Zenón and a lively talk and conversation.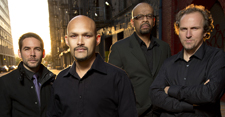 CONNECT
  Artist Website
  Twitter
  Facebook
  Youtube
  Myspace

 
     

   Community Partners:
 
Holyoke Public Library