MIGUEL ZENON'S IDENTITIES BIG BAND Recommended
Thursday, November 19 at 7:30 p.m.
Bowker Auditorium
Composer and trumpeter Ambrose Akinmusire (pronounced ah-kin-MOO-sir-ee) cut his jazz teeth playing professionally while still in high school. Inspired by legendary saxophonists Joe Henderson and Steve Coleman, he won the prestigious Thelonious Monk International Jazz Competition and released his first album in 2007. Called "a thrilling trumpeter and astute bandleader [with a] unique spark in his playing" (
The New Yorker
), Akinmusire has moved to the front ranks of progressive jazzmen, leading his quartet and contributing his burnished tone to projects with the OSSO String Quartet and vocalists Becca Stevens and Theo Bleckmann.
---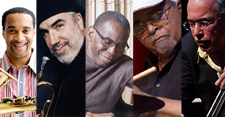 JAZZ BY 5
Featuring Javon Jackson, Tenor Saxophone; Randy Brecker, Trumpet; George Cables, Piano; Eddie Gomez, Bass; Jimmy Cobb, Drums
Thursday, February 18 at 7:30 p.m.
Bowker Auditorium
Jazz By 5 is a musical collaboration that celebrates the eras of swing, bebop, avant-garde jazz and beyond. The performance includes a mixture of classic jazz standards coupled with original material from the members of the ensemble, who have performed with legends like Miles Davis, Dizzy Gillespie and Frank Sinatra. Saxophonist Javon Jackson initially comprised Jazz By 5 in an effort to perform, tour and collaborate with his close friends, all of whom have made an indelible mark on the jazz genre.
---
Saturday, February 27 at 8 p.m.
Fine Arts Center Concert Hall, Chamber Seating
It's time for a carnival! Shake out your winter blues with the energetic, driving music of the Creole culture. Over the past decade, globalFEST has become one of the most dynamic global music platforms in North America. What started as an annual showcase in New York has grown into an international brand, building audiences for world music with stages at SXSW, Bonnaroo, and beyond. For its first North American tour, globalFEST will feature the reigning queen of Haitian songs Emeline Michel, Rio's innovative samba masters Casuarina, and Jamaica's one-stringed guitar virtuoso, Brushy One String.

"What is Brazilian Samba?" Audience members are invited to a pre-performance talk by the artists at 6:30 p.m. in the Concert Hall.
---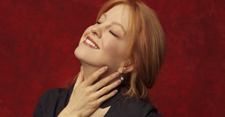 Saturday, April 9 at 8 p.m.
Fine Arts Center Concert Hall, Chamber Seating
A big-band group led by composer-pianist Maria Schneider blends the freedom of jazz and the structure of classical music. Schneider has garnered nine Grammy nominations and two Grammy wins, and her music has been hailed by critics as "evocative, majestic, magical, heart-stoppingly gorgeous, and beyond categorization." Since 1994 Schneider has honed her compositions and conducting to highlight the uniquely creative voices of the group, made up of many of the finest musicians in jazz today.
Audience members are invited to a moderated talk with Ms. Schneider about her career, creative process and involvement in digital rights and fan-funding at 5:15 p.m. in the Concert Hall, free and open to the public.