Moonfish Theatre's "Star of the Sea"
Tuesday, October 3, 2017 at 7:30PM
Wednesday, October 4, 2017 at 7:30PM
Bowker Auditorium
Come aboard the Star of the Sea, en route from Ireland to America in 1847. Playing passengers whose lives and fates are more connected than they know, the cast of six, plus video projections, choreographed movement, and inventive sound effects, conjures up the world of Joseph O'Connor's best-selling novel, in an extraordinary adaptation performed in Irish and English.
Post-show talk with the members of the company immediately following each performance.

Ticket Prices
$35, $25; Five College Students & Youth 17 and Under: $10
Please call the Box Office to see if you or someone in your party is eligible for a discount.

Click
here
to view the playbill.
Additional Programming
IRISH LANGUAGE WORKSHOP FOR BEGINNERS
Thursday, September 28, 5:30 p.m., Campus Center Room 805, Free
In preparation for Moonfish Theatre's bilingual production, come learn about speaking Irish Gaelic right here on campus. This fun workshop (complete with cookies and tea) will introduce you to the language, and connect with your roots in a practical way or allow you to try something completely new! Taught by kind local instructors Amanda Bernhard and Jonathan Hohl-Kennedy
CONTEMPORARY IRISH MIGRATION PATTERNS AND THE LANGUAGE TODAY
Friday, September 29, 5:30 p.m., University Club Lounge, Free
Join us for a conversation with Íde B. O'Carroll and Jonathan Hohl-Kennedy on the recent picture of Irish-US migration patterns, and some novel ventures by established Irish-Americans interested in keeping the Irish language alive and well. Both presenters are core members of the Amherst Irish Association. O'Carroll, a prolific local scholar and author, will have a forthcoming book
, Irish Transatlantics, 1980-2015
,
available in 2018. Kennedy, along with his partner Amanda Bernhard, has pioneered an online Irish language platform, Comhrá le Chéile; both teach Irish through the Five College Supervised Independent Language Program.
Learn about Amherst's connection to Irish immigrants during the 1800s, including one of Emily Dickinson's most beloved maids, Margaret Maher. View online exhibit.

  Browse the Playbill
Artist Webpage
Facebook
Twitter
Moonfish is a Galway-based theater company creating work in English and Irish that is rooted in the limitless possibilities of the imagination. (Or as it says on their website: "Is comhlacht amharclannaíochta é Moonfish atá lonnaithe i nGaillimh agus a chruthaíonn léiriúcháin i nGaeilge agus i mBéarla go bhfuil bunús acu i ndomhan leathan na samhlaíochta.") Moonfish produces theater for young people and adults, including classics, new writing, and devised work. With each piece it seeks to immerse the audience in a theatrical experience, using shadow work, live music, dance, and more.
Star of the Sea,
based on the best-selling novel by Joseph O'Connor, premièred at the Galway International Arts Festival 2014, where it enjoyed a sell-out run and rave reviews from audiences and press alike. In 2015, it went on to enjoy similar success on a national tour; it comes to the FAC as part of its international tour.
"Gorgeously assembled theatre"
Irish Times
"Captures an extraordinary and devastating story"
Irish Daily Mail
"Unquestionably an exquisite piece of theatre"
Examiner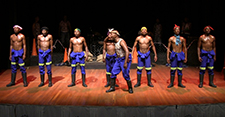 Tuesday, October 17, 7:30 p.m.
Fine Arts Center Concert Hall
Characterized by precise and technical footwork, pantsula is a dance form rooted in street culture, often performed to house music and in response to cultural and political issues. Gumboot dancing came out of the South Africa gold mines, where miners, forbidden to speak, slapped their gum-boots to communicate with each other. Featuring an ensemble of 20 men, Stimela the Musical is a unique tale of men who leave the townships of South Africa in search of greener pastures in the city of gold, Johannesburg.
Pre-show talk in the Concert Hall Lobby at 6:15 pm. Hip-Hop/Pantsula Demonstration in the Concert Hall Lobby at 6:45 pm.
---
Thursday, November 30 at 7 p.m.
Fine Arts Center Concert Hall
Plunge into a glistening blend of laser technology, snow cannons, soap-bubble tornadoes, and optical illusions as the effervescent Mr. B is transported to Bubblelandia, a blissful ocean utopia where colors explode and dreams take flight. Inspired by the artistry of Cirque du Soleil, this lavish Latvian production uses drama, mime, juggling, sand art, and theatrical magic to whisk families to an imaginary bubble world bursting with possibilities.
Family Fun Fest in the Concert Hall Lobby at 6:00 pm.
---
Tuesday, March 6 at 7:30 p.m.
Fine Arts Center Concert Hall
Welcome to the infamous Kit Kat Klub, where the Emcee, Sally Bowles, and a raucous ensemble take the stage nightly to tantalize the crowd––and to leave their troubles outside. But as life in pre-WWII Germany grows more and more uncertain, will the decadent allure of Berlin nightlife be enough to get them through dangerous times? Come hear some of the most memorable songs in theatre history, including "Cabaret," "Willkommen" and "Maybe This Time." Leave your troubles outside – life is beautiful at Cabaret, the Tony-winning musical about following your heart while the world loses its way.
Pre-show talk in the Concert Hall Lobby at 6:30 pm.
---



Sponsors: