Musafir
Gypsy Music & Dance from India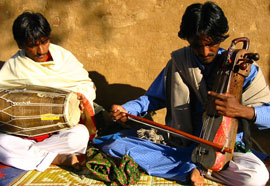 Friday, October 6, 2006
Bowker Auditorium   8:00 pm
$25, $15; Youth under 17 and Five College students $10, $7

Musafir (a Farsi word meaning traveller) is a rich performance tapestry highlighting the different cultures of the Thar Desert. This geographical area, located in the Indian state of Rajasthan, covers approxiamately 92,000 square miles. Believed by scholars to be the birthplace of the Rom, also known as gypsies, the people are well know for their passionate music and poetry.

Lead by master tabla player Hameed Khan, the ensemble consists of artist representatives from many of the districts located in this vast land.The snake charmers come from the Sapera-Kalbleiya district. Langas poets represent the Jaisalmer district, and the classical musicians and dancers are from the Soufi Muslim culture. Fascinating and colorful to watch, this performance will highlight the ancient culture that traveled from India to the West along the Silk route many centuries ago.

Listen to the sounds of some truly unique instruments: the Dholak folk drum, the Naganas- played with sticks, and small, hand-held, wooden clappers called Kartal. Mixed with the Tabla and a variety of bells and cymbals the musicians create pulsating, dynamic rhythms. Also included are a variety of strings and flutes such as the snake charmer's Been, tuned with wax, that functions like a bagpipe but uses a gourd for the wind chamber. The Satara or shepard's flute has two pipes. One pipe serves as a drone while the other plays the melody.

Hold your breath for the magical daunting feats of the Fakir breathing fire and the spinning snake dance performed in multicolored skirts and veils. It is all a part of an incredible fun filled visual and musical learning experience!

Hameed Khan Kawa is the creator and artistic director of Jaipur Kawa Brass Band and Musafir. His father and forefathers were musicians, exponents of both folk and classical Indian music. He is a master tabla player and after arriving in France in 1984, Hameed spread his culture by sharing it with artists of different persuasions. The Trio Erik Marchand was created as a subtle fusion of French Brittany, Arabian and Rajasthani traditions. Hameed Khan has played with musicians Chico Bouchikhi (Gypsy Kings), Najat Aatabou, Thierry Robin Gitans, Lo"Jo Triban, Natacha Atlas and many more.
 
Pioneer Valley Hotel Group, Mass Cultural Council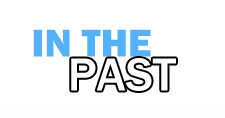 Here is an archive of many of our past events. If you are looking for current happenings at the FAC please go to the home page.
The past events section is updated periodically, very recent past events may not be listed immediately.
To navigate within the past events section:
By Program then by Year
By Artist for Exhibitions
Note these pages are updated every semester.  Not all events or exhibitions will be listed here promptly after they are over.