My Journey Through Line:paintings and drawings by Carolyn Mae Lassiter
Opening Reception: September 14, 5-7pm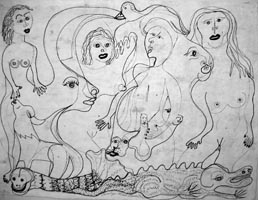 Monday, September 14 - Friday, October 2, 2009
Free and open to the public
Self-taught Santa Fe artist Carolyn Mae Lassiter spent little time immersed in the formal educational school system. Raised in Ahoskie, North Carolina where she picked cotton, tobacco and peanuts alongside her family who were sharecroppers, she moved to Queens, New York at the age of 13 with her family. There, she worked a variety of jobs including telephone operator, photographer's rep and stylist, and modeling on Madison Avenue. She immersed herself in rich and diverse life experiences, which have undeniably sparked and shaped her art. Inspired by the art she observed in the early 1970s while living in Mexico with a family of indigenous Nahuatl artists, she began making ink drawings on mulberry bark paper, which later evolved into works in watercolor and oil pastels, as well as mixed media using fabric, wax, and paper-mache. Soulful and thoughtful, female energy is an obvious theme in Lassiter's work, as she often mentions that she was one of four sisters and that she had a daughter so "she likes her girls." Other recurring themes include dreams, spirituality, life in the country, family, and animals. Whether using bold saturated color, ink with muted watercolor accents, or incorporating aspects of her sculptures into her paintings, the core spirit of Carolyn Mae Lassiter's art is unmistakable.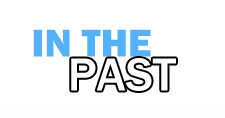 Here is an archive of many of our past events. If you are looking for current happenings at the FAC please go to the home page.
The past events section is updated periodically, very recent past events may not be listed immediately.
To navigate within the past events section:
By Program then by Year
By Artist for Exhibitions
Note these pages are updated every semester.  Not all events or exhibitions will be listed here promptly after they are over.