Tuesday, October 30, 7:30 pm
Fine Arts Center Concert Hall
Known for its cutting edge contemporary work, this Portland-based company led by acclaimed dancer and choreographer Sarah Slipper brings its distinctly dark, theatrical, and vivid choreography to Amherst for its Fine Arts Center debut. Dance International Magazine proclaimed that NW Dance Project is "changing the way dance is created" and have become "a laboratory, factory and repository for risk-taking new works from the next generation of choreographers from Europe and North America." For its debut appearance at the FAC, the company will perform
You Are All I See
choreographed by Wen Wei Wang, focusing on movement that is both sharp and cool with athletic emotionality that shows off the dancers' technical skills;
MemoryHouse
by Sarah Slipper, a gripping, passionate duet; and finally,
Le Fil Rouge
, choreographed by Ihsan Rustem set to a suite of old and new love/unrequited love songs, presents a light and airy work featuring "follies" style vignettes ranging from delightful duets to full-company sections filled with humor, surprise, and tenderness.

$45, $35, $20; Five College Students and Youth 17 and Under: $15, $12, $10; Under40TIX $25
 
Academic Connections: Art; Communication; Dance; English; Kinesiology; Management; Nutrition; Theater; WGSS
See all the
Course Connections
Questions:
• How does dance adapt literary texts?
• How does a company
• How do dancers pace and care for their bodies?
• How do dancers approach physicality in a
• How does gender identity manifest itself in the business and artistic work of a dance company?
Share this event!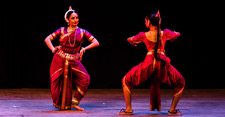 Saturday, October 13, 8 pm Fine Arts Center Concert Hall
Weaving together two dance traditions –Odissi from India and Kandyan from Sri Lanka – yields a unique work that connects two ancient cultures in whole new light. Performed to live music.
---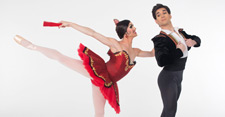 Tuesday, April 2, 7:30 pm Fine Arts Center Concert Hall
One part parody and one part loving homage, the Trocks simultaneously honor the traditions of ballet with high-level performance while also reveling in playing with gender roles and identity.
---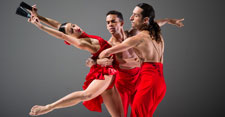 Thursday, April 18, 7:30 pm Fine Arts Center Concert Hall
For this appearance, Ballet Hispánico brings an all-Latina choreographer program, exploring iconic Mexican symbols, the circularity of the human condition and the hallmark passion of flamenco dance.
---