NEW YORK BOTANIC GARDENS

Saturday, April 18   Bus Tour
Tickets: $95 per person (includes travel, gratuity and all garden pass)
 
A National Historic Landmark, The New York Botanical Garden maintains one of the world's greatest collections of flora.  Its 250 acres include some of the most beautiful natural terrain of any botanical garden in the world, including dramatic rock outcroppings, rolling hills, waterfalls and ponds, the Bronx River, and a 50-acre remnant of the forest that once covered New York City. The Enid A. Haupt Conservatory's sprawling glasshouse galleries showcase an effusion of orchids that bloom among still, geometric reflecting pools, soaring angular pergolas, and sleek benches. The visit coincides with the Annual Orchid Show.  This year's theme is "Chandeliers".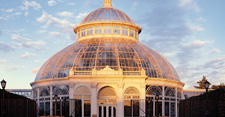 CONNECT
Website: http://www.nybg.org/
http://www.nybg.org/gardens/conservatory/
Facebook: https://www.facebook.com/NYBotanicalGarden
Twitter: https://twitter.com/NYBG