New Asia Cinema
Spinning Gasing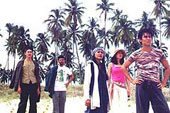 Tuesday, November 9, 2004
Bartlett 65   7:00 pm
Free to the public
(directed by Teck Tan, Malaysia, 2000) Spinning Gasing displays the extraordinary diversity of Malaysia through the dramatic and sometimes comic portrayal of a struggling rock band comprised of young Malay, Chinese, Eurasian, and Indian musicians, on a road trip from the capital city of Kuala Lumpur to the eastern coast. The soundtrack underscores the interplay of tradition and modernity, combining urban dance music with traditional folk songs-including an exquisite scene of ulik mayang dance performance. The first Malaysian feature film made entirely in English, Spinning Gasing (the title takes its name from a traditional wooden top wound with string) is also a landmark for its depiction of romance between characters of different religions, ethnicities, and sexes.
New Asia Cinema
Chicken Rice War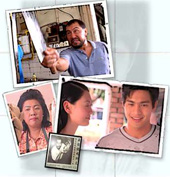 Tuesday, November 16, 2004
Bartlett 65   7:00 pm
Free to the public
(directed by Chee Kong Cheah, Singapore, 2002) Chicken Rice War presents a raucously hilarious Romeo and Juliet story, set amongst the famous family-run food stalls of Singapore that hawk the dish of Hainanese chicken rice, each with their own secret ingredients. Audrey Chan and Fenson Wong, children of rival chicken rice dynasties, are cast in their college's rock 'n" roll version of the Shakespeare play and fall into their own inevitable star-crossed romance. A clever testimony to the cultural hybridity of Singapore, the film also pits Cantonese opera against tunes by Singaporean popster Tanya Chua at the craziest Hungry Ghost Festival ever.
New Asia Cinema - Women Talk: Women Directors
She Wants to Talk to You & Afghanistan Univeiled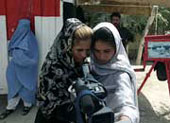 Thursday, December 2, 2004
Bartlet 65   7:00 pm
FREE Films for your enjoyment!
Directed by Anita Chang, 2001 (29 minutes) In this short documentary, Chinese American filmmaker Anita Chan uses film to collaborate with Nepali girls in Kathmandu and Nepali-American women in the U.S. who share their own stories. Afhanistan Unveiled Directed by Brigitte Brault & AINA Women Filming Group, 2003 (52 Minutes) This acclaimed film was made by the first team of women video journalists trained in Afghanistan, who traveled to rural provinces to interview women about their lives and experiences under the Taliban--and their hopes for the future. Leaving Kabul for the first time, the female journalists capture devastating and poignant images of their country, seen through the eyes of women.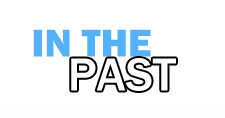 Here is an archive of many of our past events. If you are looking for current happenings at the FAC please go to the home page.
The past events section is updated periodically, very recent past events may not be listed immediately.
To navigate within the past events section:
By Program then by Year
By Artist for Exhibitions
Note these pages are updated every semester.  Not all events or exhibitions will be listed here promptly after they are over.