Egyptian Puppets A Special Family Event
Our Shadows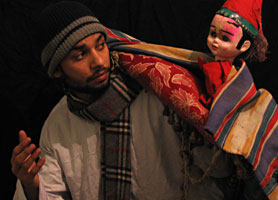 Sunday, May 6, 2007
Bowker Auditorium   from 4:00 pm to 5:00 pm
Adults $10; Children 12 and under $5

We, each and every one of us, cast a shadow. Can you tell by looking at that shadow who is Egyptian and who is American?

So asks Nabil Bahgat, founder of WAMDAH (pronounced wum-duh), an ensemble of young Egyptian theatre artists who have dedicated themselves to reviving (and re-imagining) a once-popular form of street puppetry. Featuring both shadow and hand puppets, this traditional art form is now almost extinct in their homeland.
Our Shadows is the result of a unique collaboration and the generous sharing of traditional Eygptian puppetry techniques between the WamDah artists and Bloomsburg Theatre Ensemble. This bilingual work includes not only puppetry but storytelling theatre as well. By using a colorful Bedouin tent-inspired set and decorated with multifaceted faynouz (lanterns), the performance evokes a traditional village moulid (festival). Our Shadows features khayyal al zill (shadow puppetry), music, stick-dancing, tannura dances from rural Upper Egypt, storytelling about Egyptian folk heroes Ali Zaybak ("Ali Quicksilver," the Egyptian "Robin Hood"), Goha (the "Wise Fool" of the fellaheen, the farmer folk), and Aragoz (the rapscallion puppet)and up-to-the-minute commentary on the world we share. Performed in Arabic and English, this production is perfect family entertainment.

Don't miss this only local performance before the group heads off on their Egyptian Tour!

Co-sponsored by the Asian Arts & Culture Program and Center Series.

Recipient of a National Endowment for the Arts Access to Artistic Excellence 2007 Grant Award.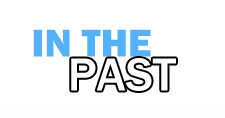 Here is an archive of many of our past events. If you are looking for current happenings at the FAC please go to the home page.
The past events section is updated periodically, very recent past events may not be listed immediately.
To navigate within the past events section:
By Program then by Year
By Artist for Exhibitions
Note these pages are updated every semester.  Not all events or exhibitions will be listed here promptly after they are over.