Wednesday, October 12, 7pm
Ifa Bayeza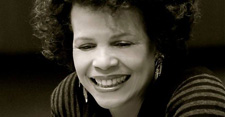 Join us in a candlelight literary soireé and dramatic reading from Ifa Bayeza's acclaimed novel Some Sing, Some Cry, co-authored with her sister Ntozake Shange.  In an evening of words and music, Bayeza transports us to 1917, Charleston, South Carolina to recount the touching love story of Lizzie Mae Winrow and Osceola Turner, a young song and dance duo, who dream of escaping the Jim Crow South to seek fame and fortune in New York.  World War I will both tear the couple apart and fuse their future.  As action moves from the backstreets of the southern city to the trenches of war-torn France, the intimate tale of these two embattled hearts mirrors the transformation in music and dance that will usher in the Jazz Age.  Enjoy an evening exploring a little know chapter in 20th century musical history from Some Sing, Some Cry, widely proclaimed as  "gorgeous" (NY Times), "dazzling" (Essence), and a "magical must-read" (Elle).    
Evelyn Harris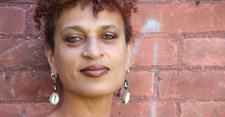 A performance by the internationally acclaimed vocalist Evelyn Harris features her skilled grasp of musical styles accompanied by pianist, Paul Arslanian.  Harris' 18-year tenure with the internationally acclaimed Black women's acapella ensemble Sweet Honey In The Rock gave her inspiration to grow as an artist, recording  and co-producing ten albums on the Warner Brothers, Redwood, and Flying Fish labels.  Widely respected for the mastery of her craft, she tells a story of the struggle for peace and justice through songs that confess the reveries and fears of a people intimately affected by violence and hatred.  Evelyn relocated to the Pioneer Valley in Fall 2002 and has taught at the Pioneer Valley Performing Arts High School, MacDuffie School, Stoneleigh-Burnham School, Smith College, Mt. Holyoke College and Westfield State College among many others.  She currently directs "The Ku'umba Women's Chorus" at the Northampton Community Music Center and VOICES of New Africa House at UMASS-Amherst. She uses singing as cognitive therapy with dementia and Alzheimer's patients in several nursing homes in the area. During the summer, she is a vocal instructor at the Institute for the Musical Arts Rock 'n' Roll Girls Camp. Evelyn says, "My life is full with abundant manifestations of good. Singing is my giving back with thanks and praise."

More Information
Gallery Hours:
Monday & Tuesday, 1pm to 7pm

Wednesday-Friday, 1pm to 5pm


We are closed for academic breaks (Thanksgiving, Christmas, Spring Break, Summer) and state holidays

Additional viewing may be arranged on request by contacting the Gallery.
Contact Information:
103 New Africa House
University of Massachusetts
180 Infirmary Way
Amherst, MA 01003 
(413) 545-5177

 
Gallery Director, Dr. Terry Jenoure
Gallery Manager, Alexia Cota
 
For GPS and mapquest:
180 Infirmary Way
Amherst, MA 01003