He's Covered All His Tracks
mixed media by musician, poet and visual artist Oliver Lake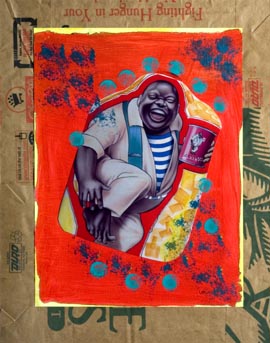 Wednesday, February 13 - Wednesday, March 12 2008
Free and open to public.
Oliver Lake is a true renaissance man: a poet, painter, performance artist and creator of theatrical works. This exhibit is a rare event for the Arkansas-born, veteran artist whose work deserves much attention. Most know Oliver Lake through his tremendous reputation, contributions and leadership as a musician and bandleader, which have brought him world-renown. In his mixed-media show, Oliver continues his legacy of flexibility and vision, exhibiting energetic, provocative and wise works: paintings, drawings, and carved sticks.
Oliver Lake is best known for his enormous contributions to the world of contemporary music, especially jazz. However, his amazingly eclectic musical approach is best expressed by his popular poem Separation, where he says, "put all my food on the same plate!" And, Lake has so much on his plate- .He has arranged for pop diva Bjork, rocker Lou Reed, and rap group A Tribe Called Quest; collaborated with poets Amiri Baraka and Ntozake Shange, choreographers Ron Brown and Marlies Yearby, Native American vocalist Mary Redhouse, Korean komongo player Jin Hi Kim, and Chinese bamboo flute player Shuni Tsou. He has appeared with MacArthur Award recipient Anna Devere Smith, and has shared the stage with hip-hop artist Mos Def and pop star Me'shell Ndegeocello.
Few artists could embrace such a diverse array of musical styles and disciplines. And, Lake is not only able to thrive in all of these environments, but does it without distorting or diluting his own remarkable artistic identity. Part of this is due to his experience with the Black Artists Group (BAG), the legendary multi-disciplined and innovative St. Louis collective he co-founded with poets Ajule and Malinke, and musicians Julius Hemphill and Floyd La Flore over 35 years ago. But in reality, Oliver's varied artistic interests go back even further than that.
Born in Marianna, Arkansas in 1942, Oliver moved to St. Louis at the age of two. He began drawing at the age of thirteen, and even now, paints daily, using oil, acrylics, wood, canvas, and mixed media. He soon after began playing cymbals and bass drum in various drum and bugle corps. At 17, he began to take a serious interest in jazz. Like many other members of BAG and its Chicago-based sister organization, the Association for the Advancement of Creative Musicians (AACM), Lake moved to New York in the mid-'70s, working the fertile ground of the downtown loft scene and quickly establishing himself as one of its most adventurous and multi-faceted artists.
A co-founder of the internationally acclaimed World Saxophone Quartet with Hemphill, Hamiet Bluiett and David Murray in 1977, Oliver continued to work with the World Saxophone Quartet (WSQ) and his own various groups - including the groundbreaking roots/reggae ensemble Jump Up - and collaborating with many notable choreographers, poets and a veritable Who's Who of the progressive jazz scene of the late 20th century, performing all over the U.S. as well as in Europe, Japan, the Middle East, Africa and Australia.
Recognizing the changing trends and new challenges facing creative artists, especially those working in the jazz tradition, and always a strong proponent of artist self-empowerment and independence, in 1988 Lake founded Passin' Thru, Inc., a 501(c)(3) non-profit, dedicated to fostering, promoting and advancing the knowledge, understanding and appreciation of jazz, new music and other disciplines in relation to music. Under his artistic direction, Passin' Thru has commissioned new works, sponsored performances by emerging artists, documented works by prominent artists, and has established on-going educational activities not only in its home base of New Jersey, but nationally.
A recipient of the prestigious Guggenheim Fellowship, Lake is one of the most heavily commissioned composers to emerge from the jazz tradition, and is the recipient of awards and grants from the Rockefeller Foundations, Meet The Composer, the McKnight Foundation, Chamber Music America, the Lila Wallace Arts Partners Program and the Copland Fund, among many others.
Associated Events
Opening Reception
Oliver Lake
Wednesday, February 13 2008 
Free and open to public.,5:00 pm to 7:00 pm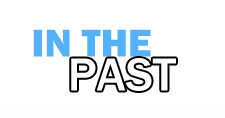 Here is an archive of many of our past events. If you are looking for current happenings at the FAC please go to the home page.
The past events section is updated periodically, very recent past events may not be listed immediately.
To navigate within the past events section:
By Program then by Year
By Artist for Exhibitions
Note these pages are updated every semester.  Not all events or exhibitions will be listed here promptly after they are over.