ONCE
Thursday, December 1, 2016 at 7:30PM
Fine Arts Center Concert Hall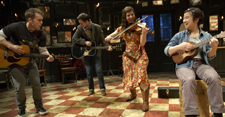 Winner of eight Tony Awards including Best Musical, ONCE is a truly original Broadway experience. Featuring an impressive ensemble of actor/musicians who play their own instruments onstage, ONCE tells the enchanting tale of a Dublin street musician about to give up on his dream when a beautiful young woman takes a sudden interest in his haunting love songs. Emotionally captivating and theatrically breathtaking, ONCE draws you in from the very first note and never lets go. It's an unforgettable story about going for your dreams, not living in fear, and the power of music to connect all of us.

Ticket Prices
$65, $60, $25; Five College Student & Youth 17 and Under: $30, $25, $20; Five College Faculty & Staff: Please call the Box Office
Tickets on Sale Now!
You can

Eat. Art. Love.

at the University Club located on campus, just a short walk from the FAC Concert Hall.
First Course:
Guinness-and-onion soup with Irish cheddar croutons or colcannon cakes topped with smoked salmon
Main Course:
Corned beef and cabbage, vegetable potpie with cheddar-stout crust, or Irish chicken with brussels sprouts and bacon
Dessert:
Bailey's gelato or cheese cake with mint-chocolate ganache
Click
here
for more information and a complete listing.
Artist Webpage
Facebook
Instagram
Twitter
Guy is an Irish singer and songwriter who spends his days fixing vacuums in the Dublin shop he runs with his father, and his nights playing his music in local pubs. He is on the verge of giving up music altogether when a Czech immigrant, "Girl," walks into the bar, hears him play and refuses to let him abandon his guitar. As it turns out, she has a broken vacuum cleaner, Guty repairs it, and she pays him in music on a piano she plays in a record shop. Over the course of a week, Girl convinces Guy to believe in the power of his music and his love for the woman who inspired his songs. They scrape together money to record a demo album with a motley crew of bar friends, and their unexpected friendship and collaboration evolves into a powerful—but very complicated—love story.  
"Impeccable. A rhapsodic, unique musical that's tender, funny and soaring." – Variety Magazine
"Once in a blue moon, perhaps once a decade or so, a new Broadway musical breaks the rules, challenges expectations and delights audiences with something they didn't realize they were longing for. ONCE is that musical." – The Columbus Dispatch
"Intensely moving. There are plenty of romantic Broadway musicals, but ONCE is part of a much smaller and more rarefied group: musicals that are actually wise about the joys and anguish of life and love." – Chicago Tribune
"ONCE uses song and dance in a way I've never experienced in an American musical." – New York Times
---
Thursday, March 23 at 7:30 p.m.
Fine Arts Center Concert Hall
7 Doigts invites you into their kitchen for this multi-sensory marvel. Cuisine and Confessions colorfully displays that life happens in the kitchen and that storytelling can happen through food. In this show, the audience's most visceral senses are heightened by high-flying, eye-popping acrobatics, elaborate choreography, and pulsating music coupled with visuals of mixing batter, baking cookies, and sprinkling oregano. So sit back, "feed your eyes and mouth – and make sure you don't try any of this at home," cheers Time Out (Paris).
---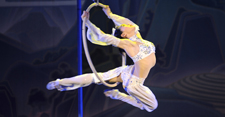 Wednesday, November 9, at 7:30 p.m.
Fine Arts Center Concert Hall

One of China's most outstanding acrobatic troupes, the Shanghai Acrobats full company and its multiple performing groups give more than two thousand performances in China and hundreds of performances abroad each year. The company continues to win awards nationally and internationally for their unique acts, including Icarian umbrellas, head jumping monks, Shadow of Cards magic, the Butterfly Lovers aerial silk act, and many more. The Shanghai Acrobats will perform their brand new show, "Shanghai Nights," at the FAC.
---
Thursday, March 30 at 7:30 p.m.
Bowker Auditorium
Witness the unique tradition of Japanese Kuruma Ningyo (cart puppets) in this story of two wandering travelers along the great highway from Tokyo to Kyoto, whose paths intersect time and space. Created by American puppeteer Tom Lee and Japanese Master Puppeteer Koryu Nishikawa V, this work fuses traditional Kuruma Ningyo puppetry, video projection and live music to explore themes of life and death, and how traditions are passed on.  
Audience members are invited to a pre-concert talk by Puppeteer Tom Lee at 6:30 p.m. in Bowker Auditorium.
---
Sponsors