One Nation Under Surveillance
Harriet Diamond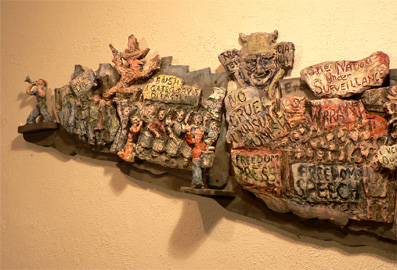 Thursday, October 25 - Tuesday, November 20 2007
Hampden Gallery Incubator Project Space   
Diamond has recently exhibited her work at the National Sculpture Society in NY and installed work in the Norfolk International Airport. This work is what she calls mini-installation. It is made to surround and draw the viewer into the unfolding drama. The pieces are fired and painted ceramic and wood. The more serious her content and subject matter have become, the lighter her working means has become. A note of caricature has taken over the work. Despite her interest in political art, she shies away from the heavy handed and the didactic.
In the sculpture, Iraq Vigil, all of the figures are tiny portraits of the folks who stand "on the line" every Saturday in our town as in so many towns.. and for so many years! It interests me that strong committed individuals can light a fire that spreads. In Iraq Vigil, you will see Frances Crowe, now 86 years old, our local leader speaking to two soldiers. She has convinceds so many of us to join her anti-war work. From one person's work and commitment so much can grow. Ideas about the connection between leadership, community, and world stage run through the mini-installations. Perhaps it is that I believe that the real salvation for the world begins with the individual and his or her connection to a community and then to the world beyond."
Associated Events
Opening Reception
Harriet Diamond
Thursday, October 25 2007 Hampden Gallery
,4:00 pm to 6:00 pm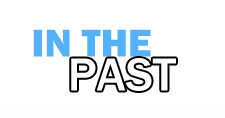 Here is an archive of many of our past events. If you are looking for current happenings at the FAC please go to the home page.
The past events section is updated periodically, very recent past events may not be listed immediately.
To navigate within the past events section:
By Program then by Year
By Artist for Exhibitions
Note these pages are updated every semester.  Not all events or exhibitions will be listed here promptly after they are over.