Othello in the Seraglio: The Tragedy of Sümbül the Black Eunuch
Friday, October 14, 2016, 8:00pm
Bowker Auditiorium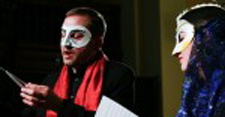 Othello in the Seraglio, a uniquely powerful "coffeehouse opera," tells an age-old story of passionate love and the murderous jealousy of a black eunuch at the 17th century Ottoman Court. The stunning score, by Boston composer and Grammy nominee Mehmet Ali Sanlıkol, weaves together Italian Baroque and Turkish sources with his own newly-composed music into a tapestry of uncanny beauty. Othello in the Seraglio is performed on European period and traditional Turkish instruments by an ensemble of 12 instrumentalists, singers and a dramatic storyteller. 

Ticket Prices
General Admission: $25; Five College and 17 & Under: $10; Five College Faculty & Staff: Please call the Box Office
Tickets on Sale Now!
Performance Webpage
Artist Webpage
Facebook
DESCRIPTION:
Othello in the Seraglio, a uniquely powerful "coffeehouse opera," tells an age-old story of passionate love and murderous jealousy, of a black eunuch at the 17th century Ottoman Court who rises to power and riches, only to come to a tragic end. The multi-layered script is by New England Conservatory music historian Robert Labaree, while the stunning score, by Boston composer and Grammy nominee Mehmet Ali Sanlıkol, weaves together Italian Baroque and Turkish sources with his own newly-composed music into a tapestry of uncanny beauty. Othello in the Seraglio is performed on European period instruments and traditional Turkish instruments by an ensemble of 12 instrumentalists, singers and a dramatic storyteller. You have never heard anything like this before – because nothing like it has existed until now. Audience members are invited to a pre-concert talk at 7 p.m. in Bowker Auditorium Outreach: Master classes and lectures will be offered in conjunction with this event and may be open to public participation and observation as space permits. Please call Asian Arts and Culture Program at 413-577-2486 for information and reservations.
"[Sanlıkol's] music is colorful, fanciful, full of rhythmic life and full of feeling..." ---Richard Dyer, The Boston Globe
"Brings timeless enchantment to this age-old tragedy…. Gorgeous music…beautifully played and sung." --- Boston Intelligencer
Further review can be found here
here
---
Saturday, November 5 at 8 p.m.
Bowker Auditorium
Alam Khan, son of the legendary Sarode Maestro Ali Akbar Khan, continues the purity of his father's musical style while adding his own individual touch as a 21st century musician. Alam maintains the reverence given to playing classical ragas in his solo concerts around the world, but also jams occasionally with musicians in diverse genres. One of the most sought after tabla players in the world today, master percussionist Nitin Mitta boasts the rare ability to combine technical virtuosity, spontaneity, clarity of tone and sensitivity to melodic nuances.
Audience members are invited to a pre-concert talk by Alam Khan at 7p.m. in Bowker Auditorium.
---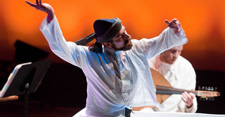 Thursday, February 23 at 7:30 p.m.
Fine Arts Center Concert Hall, Chamber Seating
The Seeker of Truth unites Middle Eastern and South Asian musical traditions, blending powerful and rich music with global traditions of spirituality, healing, culture and mysticism. Featuring four musicians and Dervish Aziz, the Yuval Ron Ensemble performs music that is exhilarating, hypnotic, ecstatic and even meditative. As an educator and peace activist, Yuval Ron is dedicated to bringing cultural harmony through music.
---



Warsaw Philharmonic Orchestra
Jacek Kaspszyk, Conductor
2015 International Chopin Piano Competition Winner, Seong-Jin Cho
Sunday, October 30 at 7 p.m.
Fine Arts Center Concert Hall
For over a century, the Warsaw Philharmonic has been one of Poland's most distinguished musical institutions. They will be joined by the 2015 International Chopin Piano Competition Winner, Seong-Jin Cho. Bachtrack hailed "Cho has an enviable ability to make every note sound distinct and clear, shaping and balancing each phrase perfectly. After only about a minute of his performance I stopped analyzing, closed my eyes and lost myself completely in the sheer musicality of the moment." Program TBA but you can bet Chopin will be included.
---
Sponsors
Funders
The Massachusetts Cultural Council