FESTIVAL OF SOUTH AFRICAN DANCE FEATURING THE PANTSULA DANCE COMPANY AND GUMBOOTS – STIMELA THE MUSICAL
Tuesday, October 17, 2017 at 7:30PM
Fine Arts Center Concert Hall
With precise and technical footwork, often to the accompaniment of house music, Pantsula is rooted in street culture and used to respond to cultural and political issues. Stimela the Musical, featuring an ensemble of 20 men, is a unique South African story that tells a tale of rural African men who come by train from all walks of life in search of greener pastures in the city of gold, Johannesburg.

Pre-show talk in the Concert Hall Lobby at 6:15 pm.
Pre-show Hip-Hop/Pantsula Demonstration in the Concert Hall Lobby at 6:45pm.

Ticket Prices
$35, $30, $20; Five College Students & Youth 17 and Under: $10
Please call the Box Office to see if you or someone in your party is eligible for a discount.

South African prix fixe dinner available at the UClub before the concert. Details at fineartscenter.com/prixfixe.


"
Stimela
was the train that brought the men from all over Africa to Johannesburg, 'the city of gold', to the mines for work and delivered them back a year later to their families. Stimela showcased maleness of a kind unfamiliar to New Zealanders: men who are not afraid to sing deep, rich harmonies, a masculinity that does not need conflict or violence. These men of Africa were proud and fearless."--- RUTH ALLISON,
Stuff Nelson Mail
"The thigh-slapping boot stomping routines are backed by a very loud three-piece band and accompanied by glorious singing in the style of Ladysmith Black Mambazo. It's also very funny and very tender and the company work as hard as miners to bring you the gold. The men are performing at a variety of venues throughout the fringe and they will really leave you calling for more."--- Ewart Shaw,
The Advertiser
Wednesday, November 1 at 7:30 p.m.
Fine Arts Center Concert Hall
This renowned ensemble presents The Spirit of Argentina, a loving tribute to Carlos Gardel, a French-Argentine singer, songwriter, composer, and actor, and the most prominent figure in the history of tango. You'll discover his passions for futbol, boxing, and gauchos, and get glimpses into his life in Paris, his appearance on Broadway, and his friendship with the young Astor Piazzola. Tango Buenos Aires has become one of Argentina's great cultural exports, known throughout the world as the most authentic and uncompromising representative of the tango.
Pre-show talk in the Concert Hall Lobby at 6:15 pm. Tango Demonstration in the Concert Hall Lobby at 6:45 pm.
---
Thursday, November 16 at 8:00pm
Bowker Auditorium

Fiery Balkan brass, throbbing funk grooves, Roma (Gypsy) accordion wizardry, and virtuoso jazz chops make Slavic Soul Party! New York City's official #1 brass band for BalkanSoul GypsyFunk. "With razor-sharp precision, juggernaut force, and a healthy dose of playfulness, these guys start out in overdrive and never let up," writes Banning Eyre. "Slavic Soul Party! offers a gut punch to preconceptions about traditional music, world music, pop music, dance music."
---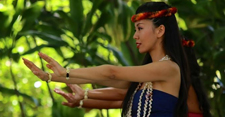 Tuesday, April 3 at 7:30 p.m.
Bowker Auditorium

Celebrating 30 years of performing, the Halau Hula Ka No'eau Ensemble captivates audiences with their exquisite, culturally authentic Hawaiian dance. At this performance, choreographer and cultural historian Michael Pili Pang presents a new work, based on legends about the divine creators of the Hawaiian Islands, that innovatively combines traditional hula, music, and chants. (This show was rescheduled after a weather cancellation the previous season.)

Pre-show talk in Bowker Auditorium at 6:30 pm.
---




Sponsors: