PILOBOLUS DANCE THEATER
Tuesday, March 22 at 7:30 p.m., Fine Arts Center Concert Hall

With its mix of acrobatic dexterity, inventive wit, and startling imagery, this internationally acclaimed company transforms itself into striking sculptural expressions that are "clever, endearing, and physically awesome" (The Los Angeles Times). Pilobolus Dance Theater returns to the FAC for more spectacle and daring surprises.
To purchase youth tickets, please call the Box Office directly at: 413. 545. 2511.
Family Alphabet Workshop with Pilobolus
Sunday, February 21, 3 - 4:30 p.m., Fine Arts Center Lobby
This playful, productive and fast-paced workshop for families and people of all ages and abilities will create a unique community Family Alphabet. Children and adults will team up to take on the challenge of creating all the letters for a human alphabet. Limited to 30 participants (priority given to families).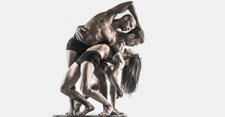 CONNECT
Artist Website
Twitter
Facebook
Youtube
Instagram