Prayer Flags Around The World
Here, There, and Everywhere: Anticipating The Art of The Future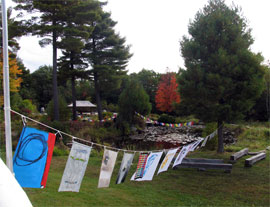 Wednesday, April 1 - Thursday, April 30 Tentative, 2009
Hampden Gallery Studio Gallery   
Prayer Flags Around the World Thomas Matsuda • USA Silvia Poloto • Brazil/USA Linda Gordon • England Caroline Jourdan • France Aram Chaled Res • France/Syria Laurette Wittner • France Sylvia Reiser • Germany Fatyol Zoltan • Hungary Tomomi Shimizu • Japan Takata Yoshiki • Japan Stéphanie Devico • Morocco/France Hakim Ghazali • Morocco/France Dang Anh Tuan • South Vietnam Thaier Helal • Syria Padungsak Kochsomrong • Thailand Lyudmila Dakhova • Ukraine Talal Moualla • United Arab Emirates Andra Samelson • USA prayerflags.livepepper.com/ This project was inspired by a ceremony Matsuda initiated on Hiroshima Day 2006, while attending the D. Fleiss Residency/ Symposia in Romania. One of the artists at the symposia Talal Moualla-who received daily phone calls from Syria and the United Arab Emirates about the Lebanon War-lent two paintings for the ceremony as a remembrance of the victims of war and a prayer for peace. In attendance were artists from Syria, Egypt, Morocco, Japan, France, the United States, Hungary, the Ukraine, Romania, Germany, Brazil, Italy, Spain, Thailand, the United Arab Emirates, Poland and others. This project is a continuation of that experience. Along with artists from the D. Fleiss Symposia/Residency, artists from around the world have made artworks out of cloth to hang together like Tibetan prayer flags. The pieces will first be hung at the Grafton Peace Pagoda for the annual Hiroshima Memorial Prayer Ceremony. Then the pieces will travel to the participating artists" countries for ceremonies and exhibitions as a symbol of peace around the world.
Associated Events
Reception: Prayer Flags Around the World
Wednesday, April 1, 2009 
,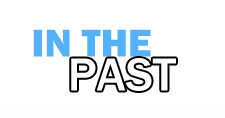 Here is an archive of many of our past events. If you are looking for current happenings at the FAC please go to the home page.
The past events section is updated periodically, very recent past events may not be listed immediately.
To navigate within the past events section:
By Program then by Year
By Artist for Exhibitions
Note these pages are updated every semester.  Not all events or exhibitions will be listed here promptly after they are over.