Ragamala: Music, Painting, and Manuscripts in Courtly India
Thursday, November 3, 2016 at 6:30PM
Pruyne Lecture Hall, Fayerweather Hall, Amherst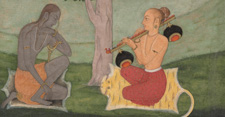 Between the sixteenth and nineteenth centuries,
ragamala
s (sets of paintings related to musical modes) were produced in great abundance at the major and minor courts of South Asia. The widespread patronage of these vividly illustrated manuscripts speaks to the prominent place of music and musical performance in the royal sphere, but it also points to the perceived mutuality between sound and image. This talk will offer an introduction to
ragamala
s, focusing in particular on their use for connoisseurial and courtly ends. 
A recommended talk for those attending the concert In the Footsteps of the Master .
Co-sponsored with History of Art & Asian Languages and Civilizations at Amherst College



FREE
Saturday, November 5 at 8 p.m.
Bowker Auditorium
Alam Khan, son of the legendary Sarode Maestro Ali Akbar Khan, continues the purity of his father's musical style while adding his own individual touch as a 21st century musician. Alam maintains the reverence given to playing classical ragas in his solo concerts around the world, but also jams occasionally with musicians in diverse genres. One of the most sought after tabla players in the world today, master percussionist Nitin Mitta boasts the rare ability to combine technical virtuosity, spontaneity, clarity of tone and sensitivity to melodic nuances.
Audience members are invited to a pre-concert talk by Alam Khan at 7p.m. in Bowker Auditorium.
---