VIJAY IYER & RUDRESH MAHANTHAPPA
RAW MATERIALS
Vijay Iyer and Rudresh Mahanthappa, two of the most celebrated artists of our time, have performed as a duo almost since their first meeting. Their 2006 release, Raw Materials, (Savoy/Pi) "is the work of a duo," writes Downbeat, "but there's more detail here than you'll find from most combos double or triple its size. An auspicious debut."

"Their work together over the past couple of years has displayed a rare cohesiveness," writes the Village Voice. "Each man is so assuredly rhythmic and so in tune with the other that you won't miss a rhythm section."

In an unprecedented series of wins, Vijay Iyer received top honors in five categories of the 2012 Down Beat International Critics Poll, including Jazz Artist of the Year, Jazz Album of the Year (for Accelerando), Jazz Group of the Year (for the Vijay Iyer Trio), Pianist of the Year and Rising Star Composer. "By now, there can be no doubt that pianist-composer Iyer stands among the most daringly original jazz artists of [his] generation," wrote Howard Reich in the Chicago Tribune.

In addition to 16 recordings under his own name, Iyer has joined forces with a wide range of contemporary artists, including creative music legends Steve Coleman, Roscoe Mitchell, Wadada Leo Smith, Butch Morris, Amina Claudine Myers, and Henry Threadgill; next-generation innovators Craig Taborn, Ambrose Akinmusire, Dafnis Prieto, Steve Lehman, and Tyshawn Sorey; hip-hop artists Das Racist, Dead Prez, and DJ Spooky; tablaist/producers Talvin Singh and Karsh Kale; poets Amiri Baraka, Mike Ladd, and Robert Pinsky; filmmakers Bill Morrison and Haile Gerima; and choreographer Karole Armitage.

Guggenheim fellow and 2012 Downbeat International Critics Poll Alto Saxophonist of the Year, Rudresh Mahanthappa is one of the most innovative composers and performers in jazz today, fusing the musical culture of his Indian ancestry and jazz with myriad other influences to create a groundbreaking artistic vision. The New York Times has hailed his "roving intellect and bladelike articulation."

He has received commissions to create new work from the Rockefeller Foundation MAP Fund, Chamber Music America and the American Composers Forum. The Jazz Journalists Association has named him Alto Saxophonist of the Year three consecutive times from 2009-2011. But accolades aside, it's what The New Yorker has called Mahanthappa's "visceral tone and grab-you-by-the-collar attack" that's driven new, international audiences to each of the seven projects he currently leads or co-leads. His critically acclaimed 2010 release, Apex (Pi), with alto saxophone legend Bunky Green, featuring Jason Moran and Jack DeJohnette, was widely lauded as one of the year's best recordings.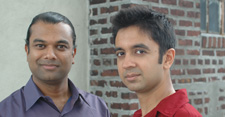 Connect