The River's Song Celebrations:
Juried Art show, Music, Dances, Parade and more
Saturday, May 16, 2015, 11AM-9PM Great Falls Discovery Center and other locations in Turners Falls 

A unique showcase of FREE art events! 

Schedule of Events
 ALL DAY Storefront Video Installations along Avenue A, Turners Falls by the Millers Falls Arts Bridge Artists
 
9 a.m.- 5 p.m.    Turners Falls Fish Ladder, First St and Unity Park

10 a.m.- 4 p.m.  Great Falls Discovery Center Environmental Exhibits, 2 Avenue A,Turners     Falls MA

11 a.m.- 3 p.m.   Kid's Art Activities: The Art Garden under the tent at Great Falls Discovery Center, 2 Avenue A

11a.m.- 3 p.m.    Connecticut River Watershed Council presents children's story time of The Fish in the Polka Dot Dress (every hour on the hour) and learn about rivers with a hands-on water table, Great Falls Discovery Center, 2 Avenue A

11a.m.- 3 p.m.    RiverSmart Communities presents BUGQUARIUM  live aquatic insects, Great Falls Discovery Center, 2 Avenue A

1- 1:30 p.m.        Reconciliation Commemoration Ceremony: The Nolumbeka Project, River Tent, Unity Park

1:30-2:30 p.m.    Visioning Bear Drumming, River Tent, Unity Park

2:30-3 p.m.         River Stories in Poetry and Song  with David Brule, The Nolumbeka Project,  The River Tent, Unity Park

3 p.m.                 The River Parade - Gather at the Art Garden Tent at Great Falls Discovery Center, 2 Avenue A

4 p.m.                 The River's Song Soundscape  performance with Tony Vacca, the Shea Theater, 71 Avenue A  
    
5:30-7 p.m.         Historic Native American Sites Walking Tour with David Brule and Joe Graveline, The Nolumbeka Project, gather at Great Falls Discovery Center, 2 Avenue A

6:30-8 p.m.         Meet the Artist: Trash to Treasure reception, the Great Hall, Great Falls Discovery Center, 2 Avenue A

8:30 p.m.            Gathering begins for Water Dance:  Sound and Light Performance at the Iron Bridge behind Great Falls Discovery Center, 2 Avenue A

8:45 p.m.            Water Dance with Phyllis Labanowski, Ricardo Frota and volunteers, the Iron Bridge
 
The excitement is building as we plan to celebrate the vital waters of the Connecticut River flowing through Massachusetts and other New England States.  The River's Song project is conceived as an innovative year-long study combining the arts and the environment to give voice to a diverse constituency along the Connecticut River basin and highlighting its ecology.  
THE PARTNERS

The Asian Arts and Culture Program at the UMass Fine Arts Center is working with the following partners for The River's Song Project:
The Connecticut River Watershed Council
The Great Falls Discovery Center (run jointly by the US Fish and Wildlife Service  and National Wildlife Refuge Center 
UMass Amherst Department of Landscape Architecture and Regional Planning
Turners Falls RiverCulture
The Nolumbeka Project
The Art Garden
Millers Falls Arts Bridge
Arts Are Essential  
RiverSmart Communities
The Massachusetts Cultural Council
Department of Conservation and Recreation
Friends of the Great Falls Discovery Center

With our partners, we worked with local artists, businesses and scientific communities to raise awareness about key issues of the Connecticut River watershed. Participation across diverse communities was encouraged by holding workshops on water related issues, creating new forms of sustainable art, and underwriting new music and dances by local composers and choreographers to be performed by both children and adults. 
 
Inspiration for the project
The Rivers's Song project was inspired by The Nile Project (TNP), an international touring project featuring a highly creative model of musical collaborations and a residency model format to study and understand the key issues concerning and affecting the Nile River.  Well before their visit to Amherst on April 7, 2015, The Nile Project artists and directors helped us think differently about our own Connecticut River basin and its key issues. Using the Nile model as an inspiration for our own study, we focused on the importance of the waters of the Connecticut River as it affects our lives, our cultural landscape and our environment. At the same time we examined common analogs and dilemmas as a basis of how to create institutions, policies and legal frameworks for economic, ethical and responsible uses of water between these two distinct river basins. We explored how these concerns can be expressed through innovative arts projects created by the local artists and the community.
 
The River Song project is presented in collaboration with the UMASS Department of Landscape Architecture and Regional Planning, the Connecticut River Watershed Council, Dean's Beans, the Great Falls Discovery Center, US Fish and Wildlife Service, the National Wildlife Refuge System and Turners Fall Riverculture and funded through various local sources and the Massachusetts Cultural Council.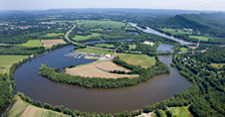 The River's Song Project
presents its first activity!
Announcing the first UMass webinar about making art from trash!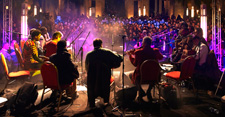 The Nile Project