Adam Rudolph/Joseph Bowie Duo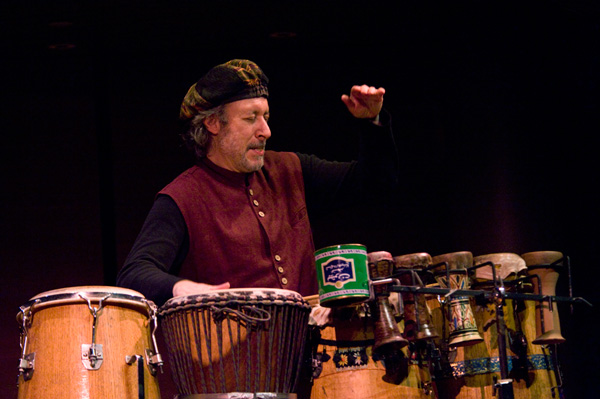 Bezanson Recital Hall
Tuesday, July 19th at 8:00pm
The Solos & Duos Series, produced by the Fine Arts Center at the University of Massachusetts, Amherst, begins its 10th season with a concert by Adam Rudolph and Joseph Bowie.
General admission: $10; Students $5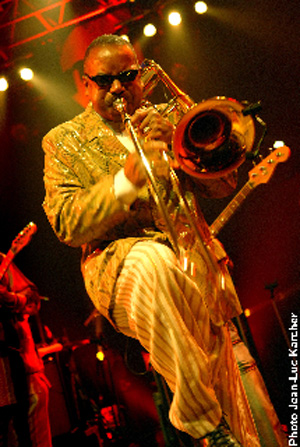 Adam Rudolph and Joseph Bowie first performed together with Yusef Lateef at Lincoln Center in 2000. Since then they have collaborated in numerous projects, including a trio with Omar Sosa and, most recently, in Rudolph's Moving Pictures Ensemble. Their music is grounded in the American improvisational tradition while embracing languages, instrumentation, and cosmologies of Europe, Africa, the Middle East, Asia, and the African Diaspora. Decades of performance and research into these music cultures have given them the tools to create unique improvisations.
"The evening was transformed into an extraordinary and lyrical happening with music of ethereal light", wrote Il Giornale about a recent duo performance by Rudolph and Bowie.
Born in 1955, hand drummer, composer and improviser Adam Rudolph has been hailed as "a pioneer in world music" by the New York Times. Currently he composes for his group Adam Rudolph's Moving Pictures Organic Orchestra, a 15 – 50 piece ensemble for which he has developed an original music notation and conducting system. He has performed at festivals and concerts throughout the world and has recorded with Jon Hassel, L. Shankar, Muhal Richard Abrams, Fred Anderson, Hassan Hakmoun, Sam Rivers, Pharaoh Sanders and Wadada Leo Smith among others. He has released over a dozen recordings on his own Meta Records label.   
Born in St. Louis in 1953, trombonist and percussionist Joseph Bowie is the younger brother of saxophonist Byron and trumpeter Lester Bowie. He was a member of the St. Louis-based Black Artists Group, and performed and recorded with all its principals: Oliver Lake, Julius Hemphill, Baikida Carroll and Charles 'Bobo' Shaw. He formed his famed jazz/funk band Defunkt in the late 1970s, served as musical director for vocalist Fontella Bass, and continues to make genre-bending music with David Murray, Jean -Paul Bourelly, and the Ethnic Heritage Ensemble. Bowie has lived in Holland since 2003.
In collaboration with the UMass Jazz in July Program, Adam Rudolph and Joseph Bowie will give a free lecture/demonstration in Bezanson Recital Hall, July 19, from 12:50-2:00pm.
The Solos & Duos Series is a program of the  UMass Fine Arts Center. Thanks to the UMass Hotel at the Campus Center. Amherst College and WMUA, 91.1FM


 

Master Class with Adam Rudolph and Joseph Bowie, Tuesday July 19 from12:50 - 1:50 pm Bezanson free and open to the public