Sailing the Barbarous Coast
work by Anthony Smith and Colin Matthes - Curated by Jesse Connor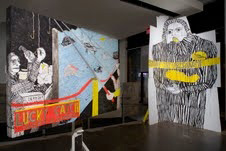 Thursday, February 11 - Thursday, March 11, 2010
Free and open to the public
In the two person exhibition, Sailing the Barbarous Coast, Anthony Smith Jr.'s gestural sequential painting is paired with Colin Matthes" flat, brusque, obsessive drawing- based work to form an exhibition that reflects a sense of uncertainty in the midst of economic calamity, social unrest, and global disruption.
Both artists create work influenced by war and consumption, sex, race, and well as the current global fiscal crisis. This work naturally draws connections between militarism, consumerism and economic hardship. With an eye to humor, irony, and mischief, the artists combine representations of global events with imagery sparked by personal experiences in their own roller-coaster like lives.
About the Artists
Anthony Smith
Anthony Smith's paintings combine abstract expression with epic narratives that explore human will, slavery, and love.
Anthony's paintings have recently been exhibited as part of "Icograms" at the Newton Art Center (Newton, Massachusetts) and at the Holland Area Arts Council (Holland, Michigan). He was a contributing artist to the critically noted "Harlem World" exhibit at the Studio Museum of Harlem in 2004. From 2000 to 2003, his work was displayed in studios and galleries in Michigan, New York and Texas.
Anthony moved to New York City where he currently resides in the Inwood section of Manhattan.
Colin Matthes
Colin Matthes, an artist based in Milwaukee, WI, works across a range of media including drawing, sculpture, installation, public art, print, and self-publishes the zine Ideas in Pictures. His artwork has been exhibited in Chicago, New York, Los Angeles, Denmark, Spain, and Austria. In 2009 Matthes completed a solo-exhibition at the University of Texas-Pan American, created an installation at the Armory Gallery (Milwaukee, WI), and made a wall drawing for a group exhibition at the Haggerty Museum (Milwaukee, WI). 2010 exhibitions include two-person shows with Anthony Smith at The New Art Center, Newton, MA and at the University of Massachusetts, Amherst, MA.
He works on collective art projects including Justseeds, Street Art Workers, and Cut and Paint zine (www.cutandpaint.org). For more information: Ideas in Pictures
Associated Events
Opening Reception: Sailing the Barbarous Coast
Thursday, February 11, 2010 
,4:00 pm to 6:00 pm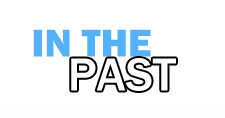 Here is an archive of many of our past events. If you are looking for current happenings at the FAC please go to the home page.
The past events section is updated periodically, very recent past events may not be listed immediately.
To navigate within the past events section:
By Program then by Year
By Artist for Exhibitions
Note these pages are updated every semester.  Not all events or exhibitions will be listed here promptly after they are over.