Sam Van Aken
HYBRIDS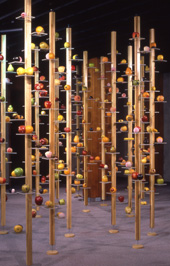 Thursday, January 29 - Friday, March 5, 2004
Hampden Gallery, Southwest Residential Area   
Bordering between medical mishap and obscenity Sam Van Aken's Hybrids installation provokes thoughts surrounding genetic modification, sexual objectification, and our immersion in consumer culture.
There are several themes underlying the Hybrids Installation. In this work, pieces of artificial fruit have been cast, altered, and joined to create specimens of "hybrid" produce. Within the 500 individual pieces there are numerous combinations of joined fruit including a strawberry which appears to be emerging from an apple and a kiwi which seems to be sprouting grapes from it's surface. These odd and bizarre combinations of fruit rest upon posts which simulate both DNA helix and display stands from a retail store.
Associated Events
Gallery Talk by Sam Van Aken
Sam Van Aken
Thursday, March 4, 2004 
,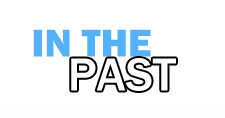 Here is an archive of many of our past events. If you are looking for current happenings at the FAC please go to the home page.
The past events section is updated periodically, very recent past events may not be listed immediately.
To navigate within the past events section:
By Program then by Year
By Artist for Exhibitions
Note these pages are updated every semester.  Not all events or exhibitions will be listed here promptly after they are over.