Thursday, September 27, 8 pm
Bezanson Recital Hall
The New York Times says "in her piano playing as well as her compositions, Angelica Sanchez seeks out the lyrical heartbeat within any avant-garde storm." Her nonet features eight of the most inventive instrumentalists working today including Thomas Heberer, trumpet; Kirk Knuffke, cornet; Ben Goldberg, clarinet; Michaël Attias, saxophone; Chris Speed, saxophone; Omar Tamez, guitar; John Hébert, bass and Sam Ospovat, drums.

General Admission: $15; $7 students
JAZZ FLIGHT: A series sampler of jazz events including Angelica Sanchez, Amir ElSaffar and Dee Dee Bridgewater. Get a ticket to all three shows for only $65 (price range A); $20 for Five College Students and youth 17 and under. Plus, you'll automatically become a subscriber and get a 15% ticket discount on future performances and additional discounts on area dining.

 
"Sanchez is a master of rhythmic movement, a scientist of time who can send it driving forward with the chordal force of McCoy Tyner…" – New York City Jazz Record
Share this event!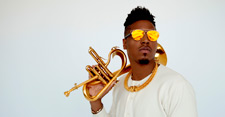 Thursday, February 14, 7:30 pm Bowker Auditorium
Rooted in the traditions of his hometown of New Orleans, Christian Scott aTunde Adjuah has had a whirlwind career that has brought him to the forefronts of jazz, hip-hop, and pop.
---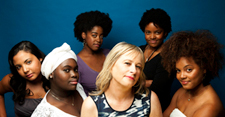 Thursday, March 28, 8 pm Bowker Auditorium
Having devoted much of her professional life to the rich music of Cuba, Bunnett's latest project, Maqueque ("the spirit of a young girl"), pairs the gifted soprano saxophonist and flutist with some of Cuba's most accomplished young female musicians.
---