MARIA SCHNEIDER ORCHESTRA Recommended
 
Saturday, September 26 at 8 p.m.
Fine Arts Center Concert Hall, Chamber Seating
Take a blustery brass lineup, layer it over a rhythm section led by a Fats Waller-style stride piano virtuoso, toss in a tap dancer, and tie the whole thing together with a magnetic, one-of-the-boys front woman whose voice recalls another era, and you have the Hot Sardines – a band that plays the hot trad jazz and sultry standards of the 1920s, '30s and '40s with a Parisian accent and a dash of the rich Dixieland sounds of New Orleans. Fans of Pink Martini and the Squirrel Nut Zippers: you're gonna love the Hot Sardines!
Join us for a pre-concert "Speak-Easy" party in the lobby with cash bar starting at 6:30 p.m. Dress to impress for the period and win a prize.
---
Thursday, November 19 at 7:30 p.m.
Bowker Auditorium
Composer and trumpeter Ambrose Akinmusire (pronounced ah-kin-MOO-sir-ee) cut his jazz teeth playing professionally while still in high school. Inspired by legendary saxophonists Joe Henderson and Steve Coleman, he won the prestigious Thelonious Monk International Jazz Competition and released his first album in 2007. Called "a thrilling trumpeter and astute bandleader [with a] unique spark in his playing" (
The New Yorker
), Akinmusire has moved to the front ranks of progressive jazzmen, leading his quartet and contributing his burnished tone to projects with the OSSO String Quartet and vocalists Becca Stevens and Theo Bleckmann.
---
Thursday, February 11 at 7:30 p.m.
Fine Arts Center Concert Hall, Chamber Seating
Saxophonist Miguel Zenón offers his most ambitious project yet with a song cycle for his quartet augmented by a 12-piece big band. The evening-length work explores the experience of Puerto Ricans who have moved to the mainland, particularly New York City. Zenón is the most celebrated altoist of his generation, a multi-Grammy nominee and Guggenheim and MacArthur "Genius" Fellow who has extended jazz's conceptual reach with a series of albums exploring the music of Puerto Rico, where he was born.
---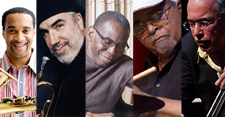 JAZZ BY 5
Featuring Javon Jackson, Tenor Saxophone; Randy Brecker, Trumpet; George Cables, Piano; Eddie Gomez, Bass; Jimmy Cobb, Drums
Thursday, February 18 at 7:30 p.m.
Bowker Auditorium
Jazz By 5 is a musical collaboration that celebrates the eras of swing, bebop, avant-garde jazz and beyond. The performance includes a mixture of classic jazz standards coupled with original material from the members of the ensemble, who have performed with legends like Miles Davis, Dizzy Gillespie and Frank Sinatra. Saxophonist Javon Jackson initially comprised Jazz By 5 in an effort to perform, tour and collaborate with his close friends, all of whom have made an indelible mark on the jazz genre.