MARIA SCHNEIDER ORCHESTRA Reviews
"From the lustrous opening chords of a Maria Schneider concert, you can feel you are swept off your feet and falling through space – but with the certainty that someone with a lot of emotional intelligence is there to catch you
.
" 
– 
The Guardian
"...she puts together stories that speak with the clarity of Ernest Hemingway and the musical grace of Aaron Copland."
–
Pittsburgh Tribune-Review 
"Maria Schneider's orchestral jazz is about feeling.  Like Wayne Shorter, she somehow expresses compassion through tones."
– 
New York Times
"She now has become entrenched among the ranks of America's leading composers. ... For Schneider, the question is no longer whether she can sustain the heights she has attained on earlier recordings; it is now how far her musical journey will take her
.
" 
– 
Downbeat Magazine
"To call Schneider the most important woman in jazz is missing the point two ways.  She is a major composer–period."
–
Time Magazine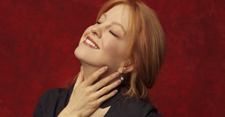 CONNECT
 Artist website
 Twitter
 Facebook
 Youtube