Shanghai Acrobats of the People's Republic of China
Wednesday, November 9, 2016 at 7:30PM
Fine Arts Center Concert Hall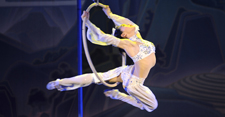 One of China's most outstanding acrobatic troupes, the Shanghai Acrobats full company and its multiple performing groups give more than two thousand performances in China and hundreds of performances abroad each year. The company continues to win awards nationally and internationally for their unique acts, including Icarian umbrellas, head jumping monks, Shadow of Cards magic, the Butterfly Lovers aerial silk act, and many more. The Shanghai Acrobats will perform their brand new show, "Shanghai Nights," at the FAC.
 
Ticket Prices
$40, $35, $20; Five College and 17 & Under: $15, $12, $10; Five College Faculty & Staff: Please call the Box Office
Tickets on Sale Now!
You can

Eat. Art. Love.

at the University Club located on campus, just a short walk from the FAC Concert Hall.
First Course:
Assorted dim sum, vegetable pot-stickers, steamed BBQ pork dumpling (char siu bao),
Leek-and-pork dumpling, or vegetable spring roll
Main Course:
Mapo tofu, kung pao chicken, or stir-fried beef with broccoli
Dessert:
Almond cookies or mango sorbet with fresh berries
Click
here
for more information and a complete listing.  
Performance Website
Artist Bio
DESCRIPTION
Showcasing a brand new show "Shanghai Nights", the Shanghai Acrobats of the Peoples Republic of China are performing coast to coast on their 2016 US tour presenting more than 200 shows and thrilling a million audiences. One of China's most outstanding acrobatic troupes, the Shanghai Acrobats full company and its multiple performing groups have more than two thousand performances in China and hundreds of performances abroad each year. Many acts of the company have won gold and silver prizes and awards nationally and internationally by performing unique acts that include Icarian umbrellas, Head jumping monks, Shadow of Cards magic, Butterfly Lovers aerial silk act and many more.
---
Thursday, February 9 at 7:30 p.m.
Fine Arts Center Concert Hall, Chamber Seating
Celebrating 30 years of dance, chants and traditions, Halau Hula Ka Noʻeau captivates audiences with their exquisitely artistic and culturally authentic Hawaiian dance performances. Choreographer and cultural historian Michael Pili Pang, presents a new work based on the traditional legends of Hawaiian gods who were revered as heroes and the creators of the Hawaiian Islands. Pang creates innovative choreography that combines traditional hula, music and chants into high artistic expression.
---
Thursday, March 23 at 7:30 p.m.
Fine Arts Center Concert Hall
7 Doigts invites you into their kitchen for this multi-sensory marvel. Cuisine and Confessions colorfully displays that life happens in the kitchen and that storytelling can happen through food. In this show, the audience's most visceral senses are heightened by high-flying, eye-popping acrobatics, elaborate choreography, and pulsating music coupled with visuals of mixing batter, baking cookies, and sprinkling oregano. So sit back, "feed your eyes and mouth – and make sure you don't try any of this at home," cheers Time Out (Paris).
---
Sponsors