Shank's Mare: Koryu Nishikawa V and Tom Lee
Thursday, March 30, 2017 at 7:30PM
Bowker Auditorium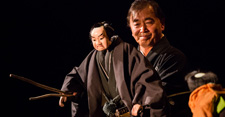 Witness the unique tradition of Japanese Kuruma Ningyo (cart puppets) in this story of two wandering travelers along the great highway from Tokyo to Kyoto, whose paths intersect time and space. Created by American puppeteer Tom Lee and Japanese Master Puppeteer Koryu Nishikawa V, this work fuses traditional Kuruma Ningyo puppetry, video projection and live music to explore themes of life and death, and how traditions are passed on.

Ticket Prices
General Admission: $25; Five College and 17 & Under: $10; Five College Faculty & Staff: Please call the Box Office
 
Tickets on Sale Now!
Performance Webpage
Artist Webpage
Facebook
Witness the unique tradition of Japanese Kuruma Ningyo (cart puppets) in the story of a pair of wandering travelers along the great highway from Tokyo to Kyoto whose paths intersect time and space. Created by American puppeteer Tom Lee and Japanese Master Puppeteer Koryu Nishikawa V, this work fuses traditional Kuruma Ningyo puppetry, video projection and live music in its exploration of the theme of life and death and how a tradition is passed on. Audience members are invited to a pre-concert talk at 6:30 p.m. in Bowker Auditorium Outreach: Classes in Puppet making, scripting text to production and digital scaling of stage sets will be offered in conjunction with this event and may be open to public participation and observation as space permits. Please call Asian Arts and Culture Program at 413-577-2486 for information and reservations.
"You simply won't see better puppetry anywhere nor a tighter braiding of methods old and new nor artists working so confidently at the peak of their craft." --- Helen Shaw, TimeOutNY
"the puppets convey a compellingly real sense of character and demonstrate the remarkable and paradoxical quality of being somehow more human, more affectively moving than many a fine actor." --- Exeunt Magazine
---
Wednesday, October 5 at 7:30 p.m.
Bowker Auditorium
Japanese artist/dancer Takao Kawaguchi re-creates the persona of the legendary Butoh dancer Kazuo Ohno through his most celebrated masterpieces, such as "Admiring La Argentina," "My Mother" and "Dead Sea, Ghost, Wienerwaltz." Capturing Ohno's unique improvisational style for the distinctive features of his body and movements, Kawaguchi projects himself into the forms and shapes of the master Ohno's body.
Audience members are invited to a pre-concert talk by UMass professor Bruce Baird at 6:30 p.m. in Bowker Auditorium..
---


Wednesday, November 9, at 7:30 p.m.
Fine Arts Center Concert Hall

One of China's most outstanding acrobatic troupes, the Shanghai Acrobats full company and its multiple performing groups give more than two thousand performances in China and hundreds of performances abroad each year. The company continues to win awards nationally and internationally for their unique acts, including Icarian umbrellas, head jumping monks, Shadow of Cards magic, the Butterfly Lovers aerial silk act, and many more. The Shanghai Acrobats will perform their brand new show, "Shanghai Nights," at the FAC.
---
Sponsors

Funders
The Japan Foundation
,
The Japan Society New York