SHENG DONG: MUSIC FROM TAIWAN
Wednesday, September 17, 7:30 p.m., Bowker Auditorium
General Admission: $15;
Five College, GCC, Seniors and 17 & under $10

The world music of Sheng Dong (A Moving Sound) makes use of both Western and Chinese instruments to create songs inspired by traditional Chinese music, Taiwanese aboriginal and folk songs, and the music of Central Asia. Catching the attention of World Music critics around the globe, the modern sound is at once authentic, beautiful, and intense.

Sheng Dong a performance company based in Taipei, Taiwan and creates a new musical expression using traditional Chinese instruments such as the bowed fiddle Erhu , the Chinese guitar Zhong ruan, as well as a blend of Western instruments. Transcendent vocals and dance by lead singer Mia Hsieh, transport listeners to and beyond the Far East. Sheng Dong has attracted international attention for opening a door to this unexplored territory with a music that is both ethnic and intensely passionate and creative.  


Spotlight Taiwan events are funded in part by the Ministry of Culture, Republic of China (Taiwan) and Special patron Dr. Samuel Yin, with additional support from Five Colleges, Incorporated.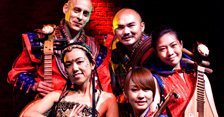 CONNECT