The Silkroad Ensemble
Thursday, April 12, 2018 at 7:30PM
Fine Arts Center Concert Hall, Chamber Seating
The Silkroad Ensemble, a Grammy-nominated collective of performers from Asia, Europe and the Americas, combines superb musicianship with an eagerness to connect across cultures and musical traditions. Western string instrumentalists perform with folk percussionists and virtuosos of instruments like the pipa (Chinese lute), gaita (Galician bagpipes), tabla (Indian hand drums), shakuhachi (Japanese bamboo flute), and kamancheh (Persian bowed lute). The ensemble's lively concert features some classical music and sumptuous traditional music alongside new work by composers the world over.

Please note: Yo-Yo Ma will not be performing with the ensemble.
Ticket Prices
$45, $35, $20; Five College Students & Youth 17 and Under $15, $12, $10; Under40TIX $25
Please call the Box Office to see if you or someone in your party is eligible for a discount.
Accessible Seating Available by calling the Box Office at 413-545-2511

"The Silk Road: the Past and the Present", a pre-concert illustrative talk by Professor Enhua Zhang, UMass East Asian Languages and Cultures
Concert Hall Lobby, 6:30 pm
Enhua Zhang, Ph.D. Columbia University. Zhang's research and teaching interests include modern Chinese literature, Chinese Cinema, Chinese Popular Culture, and Cross-cultural Studies. She is currently writing about the Silk Road in one chapter of her current book project entitled "Chinese Extravaganza: The Real, the Spectral, and the Spectacular in Postsocialist Chinese Theater."

Asian prix fixe dinner available at the UClub before the concert. Details at fineartscenter.com/prixfixe.

"Of all the Silk Road concerts I've attended, this one ranked as the most fun. And also the loudest." Los Angela Times

"If only the spirit of artistic sharing and peaceful coexistence the Silk Road Ensemble radiates so beautifully through its playing were somehow to permeate the trouble spots of today's world, what a different, and better, planet it would be." Chicago tribune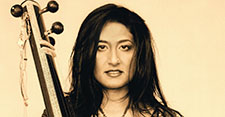 Thursday, October 26 at 7:30 p.m.
Bowker Auditorium
Kiran Ahluwalia's seductive voice draws on her Indian-Punjabi heritage, fusing the hypnotic grooves of her homeland with passionate Saharan desert blues and innovative western jazz. Her original compositions and arrangements embody the essence of ghazal, ancient poetry influenced by Sufi mysticism, about illicit, unattainable love. Accompanied by her band, including New York jazz guitarist Rez Abbasi and Nitin Mitta on tabla, Ahluwalia invites us to explore the human condition and lose ourselves in love.
---
Sunday, March 4 at 4 p.m.
Fine Arts Center Concert Hall, Chamber Seating
In the Central Asian epic
Qyrq Qyz
(Forty Girls, pronounced Kirk Kiz), a girl gathers 40 young female warriors to vanquish invaders, securing her clans' freedom. Uzbek filmmaker Saodat Ismailova's multimedia adaptation sets live performances by female reciters and instrumentalists against multiscreen video projections, with a musical score by Tashkent-based composer Dmitri Yanov-Yanovsky. Join us for a true celebration of women's musical traditions in the Muslim world.
Pre-show talk with musicologist Ted Levin in the Concert Hall Lobby at 3:00 pm. Post-show Meet & Greet with the artists.
---



Sponsors: