Soup For Syria: Barbara Abdeni Massaad
Monday, October 3, 2016 at 7:00PM
Bowker Auditorium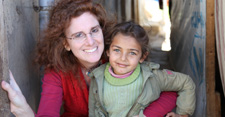 Barbara Abdeni Massaad-a bestselling cookbook author, photographer, and food writer talks about her efforts to alleviate the daily human suffering in the refugee camps located just a 45 minute drive from her Beirut home. Together with Interlink Publishing, an independent publishing house in Northampton, Massachusetts, Massaad has collaborated with nearly 80 acclaimed chefs worldwide on a humanitarian cookbook project. The book's sale profits are donated to the UN Refugee Agency UNHCR which provides urgently needed food relief for Syrian refugees. Soup for Syria was awarded the A.H. Boerma medal for coverage of food and hunger issues by U.N. Food and Agriculture Organization.

Join us for this compelling talk and slide show about the Syrian refugee crisis re-told through the eyes of Barbara Massaad.  The Soup for Syria cookbook will be on sale with a book signing after the talk.

FREE but tickets are required. Please contact the Box Office

Want to sample a soup from the book?  Click here for free recipe.
 
Website
Facebook
Barbara Abdeni Massaad was born in Beirut, Lebanon. She moved to Florida, U.S.A. at a young age and gained her real culinary experience while helping her father in the family owned Lebanese restaurant Kebabs & Things. After moving back to Lebanon in 1988, she entered university and gained a degree in Advertising-Marketing. She worked for an array of respected institutions then decided to pursue her passion for cooking. Determined to gain proper experience within the culinary world, Barbara trained with several renowned chefs at Lebanese, Italian, and French restaurants. Growing up with the influence of her father, a professional photographer who became famous in Lebanon in the 70's for his artistic portraitures, Barbara inherited his passion and decides to combine both culinary and photography to create her first book Man'oushé: Inside the Street Corner Lebanese Bakery, winner of the Gourmand Cookbook Award 2009 and The Lebanese Academy of Gastronomy 2009. Mouneh: Preserving Foods for the Lebanese Pantry, winner of the Gourmand Cookbook Award 2010 and Prix de la literature Gastronomique 2010, continues Barbara's quest to discover and preserve another aspect of Lebanese culinary heritage. Mezze: A Labor of Love is her third book, published in 2014, winner of the Gourmand Cookbook Award documents her favorite mezze recipes with short stories and anecdotes. The book is beautifully illustrated by Pascale Hares. Soup for Syria: Recipes to Celebrate our Shared Humanity is her attempt to aid Syrian refugees. Acclaimed chefs and cookbook authors the world over have come together to help food relief efforts to alleviate the suffering of Syrian refugees. Each has contributed a recipe to this beautifully illustrated cookbook of delicious soups from around the world. All profits from the sales of the cookbook will be donated to help fund food relief efforts through various nonprofit organizations. She is currently working on a book dealing with local dairy products while simultaneously developing her blog My Culinary Journey through Lebanon. Barbara will be giving a course at Université Pour Tous (2015/ 2016) to share her culinary journey with other passionate food lovers in Beirut. She is a founding member of Slow Food Beirut and currently president of the local chapter and is a delegate of the International Terra Madre Community and Slow Food Italy. She is also member of Les Ambassadeurs du Pain. Barbara has hosted a TV segment introducing viewers to culinary tours around Lebanon focusing on local foods and producers. She is a contributing editor to local and international publications. She lives in Beirut with her husband and three children.
Soup for Syria may be the most compelling cookbook ever created. Through her photographs and collected recipes, Barbara Massaad directly connects us with a people in dire need of our help. Just holding this book is nourishment for the soul." —Jim Clancy, former CNN Correspondent and Anchor, awarded A.H. Boerma medal for coverage of food and hunger issues by F.A.O. (U.N. Food and Agriculture Organization)
"Soup is the ultimate comfort food; war is not. Soup for Syria gently stirs the two together: a variety of comfort-ready recipes from well-known food writers and chefs share the pages with a variety of faces—often smiling, always with eyes wide open—of the Syrian refugee crisis. The intimate photographs are a gentle reminder of the discomforts beyond our kitchen; the recipes the opportunity to experiment with a global collection of soup ideas, particularly from the Mediterranean region that Syria is a part of. Little twists and turns with tomato, bean and pasta soups may inspire you to create your own variations, hot or cold, while other recipes introduce less familiar soup ingredients, like bulgur wheat, yogurt and verjuice. The requisite chicken soup is here, but this book is particularly comforting for vegetarians and vegans. As we indulge in these recipes, we pray for the day Syrians will once again be able to sit down together over a bowl of soup in their own kitchens." —Alia Yunis, filmmaker and author of The Night Counter
"Through her photography, Barbara Massaad brings to life the stark and inhumane reality of the Syrian refugee crisis. Politics be damned! These are human beings, not political pawns. Follow Barbara's lead and support her work." —Cathy Sultan, author of A Beirut Heart, Tragedy in South Lebanon and The Syrian

Thursday, February 23 at 7:30 p.m.
Fine Arts Center Concert Hall, Chamber Seating
The Seeker of Truth unites Middle Eastern and South Asian musical traditions, blending powerful and rich music with global traditions of spirituality, healing, culture and mysticism. Featuring four musicians and Dervish Aziz, the Yuval Ron Ensemble performs music that is exhilarating, hypnotic, ecstatic and even meditative. As an educator and peace activist, Yuval Ron is dedicated to bringing cultural harmony through music.
---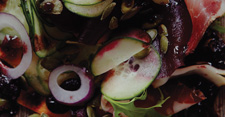 Wednesday, April 5, at 7 p.m.
Bowker Auditorium

Join us for a remarkable talk by Sally Butcher, London based cookbook author and proprietress of the notable Persian food store Persepolis as she takes us on a journey around the world via the salad bowl. A prolific author and food blogger, Sally has amassed a devoted online following for her blog and the foodie delights of the Middle East are her specialty. Her first book, Persia in Peckham, was selected Cookery Book of the Year by the Times of London and was short-listed for the 2008 André Simon Award. Her latest cookbook Salmagundi: Salads from around the World will be available for sale and with a book signing by the author after the talk. Co-sponsored by UMass Dining Services.
---
Sponsors