DADA MASILO │SWAN LAKE    
Tuesday, January 26 at 7:30 p.m., Fine Arts Center Concert Hall, Chamber Seating
Dada Masilo has become one of the most celebrated choreographers in South Africa, renowned for her reworking of classical ballets. In this creation of
Swan Lake
, her company of male and female African dancers revisit this great classic with a modern scope, keeping much of Tchaikovsky's music, themes, tutus and pointes intact but weaving high-energy, down-to-earth South African pantsula and gumboot into the mix. Re-imagining this ballet through a South African lens, Masilo tackles the issues of sex, gender and homophobia in a country confronting the impact of AIDS on its people. Partial nudity. Recommended for ages 14 and up.

Ticket-holders are invited to a pre-show talk in the FAC lobby at 6:30 p.m., by UMass assistant professor Megan Lewis, a South African-American theatre historian. Audience members may also stay for a post-show conversation with the company immediately following the performance. 

Masilo will also discuss her work the night before (Mon. 1/25) at 7 p.m. at the UMass Springfield campus, in the Tower Square building.  Reception to follow; open to the public with local dance and LGBTQ community members particularly encouraged to attend.

The presentation of Swan Lake by Dada Masilo was made possible by the New England Foundation for the Arts' National Dance Project, with lead funding from the Doris Duke Charitable Foundation and TheAndrew W. Mellon Foundation, with additional support from the National Endowment for the Arts .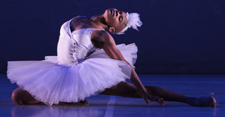 CONNECT