Sydney Dance Company
Tuesday, February 28, 2017 at 7:30PM
Fine Arts Center Concert Hall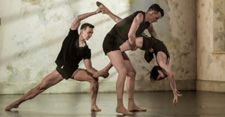 Sydney Dance Company comes to the FAC under the exuberant artistic direction of Rafael Bonachela, a self-proclaimed "movement junkie." Vividly imagined, his sensuous aesthetic has signaled a new chapter for the legendary company whose dancers infuse the stage with "creative precision and exhilarating energy." (Sydney Morning Herald) For its Amherst appearance, the company presents a powerful mixed repertory program that delivers a high-energy tour de force, celebrating the dancers' fierce physicality. "Passionate yet highly precise, demanding and often breath-stealing." – The Guardian
Dessert: Stay for a post-show talk with the company.
 
Ticket Prices

Ticket Prices


$45, $40, $20; Five College Student & Youth 17 and Under: $15, $12, $10; Five College Faculty & Staff: Please call the Box Office
Tickets on Sale Now!
Artist Webpage
Facebook
Instagram
Twitter
Sydney Dance Company is a legendary force in Australian contemporary dance. Its performances have appeared on the great dance stages of the world, from the Sydney Opera House in Australia, to the Joyce Theater in New York, the Grand in Shanghai and the Stanislavsky in Moscow. Its dancers have left audiences breathless, it has presented Australian art to the world, and brought the world to Australia. Dance in Australia would be inconceivable without it.
Actively creating and touring new work under the Artistic Directorship of Rafael Bonachela, the Company maintains an ensemble of 16 exceptional dancers. Programs of dance include works by Bonachela and by guest choreographers including Jacopo Godani, Alexander Ekman and Gideon Obarzanek, as well as collaborations with the Australian Chamber Orchestra and the Sydney Symphony Orchestra and with composers 48nord and Ezio Bosso.
Sydney Dance Company has its origins in a group founded in 1969 by dancer Suzanne Musitz. Soon known as The Dance Company (NSW), from 1975-1976 the Company was directed by Dutch choreographer Jaap Flier, before the appointment of Australian choreographer Graeme Murphy in 1976. In 1979 Murphy and his partner Janet Vernon instituted the defining name change to Sydney Dance Company and proceeded to lead it for a remarkable 30 years. Murphy and his collaborators created work that enthralled audiences in Australia and in extensive international touring, including being the first western contemporary dance company to perform in the People's Republic of China.
Sydney Dance Company has been led since 2009 by Spanish-born Artistic Director Rafael Bonachela. Over the past five years the Company has cemented its reputation as a creative powerhouse, with an acclaimed group of dancers presenting new work by Bonachela and other choreographers, designers, composers and musicians. The Company has expanded its reach into the towns and cities it visits with work for schools and local dancers.
The Company's studios offer the largest public dance classes in Australia, with nearly 80,000 attendances annually. In 2014 a Pre-Professional training course was launched to offer students the chance to work with some of Australia's most successful and award winning choreographers and educators. Sydney Dance Company's DancED program is a national initiative supporting dance education for all ages, through strategic curriculum relevant programs for primary and secondary students and career focused study for pre-professional dancers and university graduates. DancED connects schools, teachers and students to leading professionals in the dance industry, providing invaluable insight, opportunities and role models.
"Frame of Mind delivers captivating scores, wonderful choreography and dance fueled with emotion." – ABC Arts
"It's mesmerizing, and the dancers' precision and ability to twist their bodies into impossible contortions causes more than a few deep intakes of breath from the audience." – Time Out
"[Wildebeest Choreographer] Nankivell has an exceptionally sure feel for mood and structure as bodies come together in strongly formal groups or scatter in eruptions of wild physicality." – The Australian
---
Thursday, October 6 at 7:30 p.m.
Fine Arts Center Concert Hall, Chamber Seating
This Los Angeles based dance company performs their newest evening-length work, Agua Furiosa, challenging the audience to confront the harsh realities of race in our country. Inspired by Shakespeare's The Tempest and Oya, the Afro-Cuban deity of wind and storms, Agua Furiosa merges call and response, a live vocalist, water themes, fierce physicality and the performers' own personal narratives.
---
Thursday, February 9 at 7:30 p.m.
Fine Arts Center Concert Hall, Chamber Seating
Celebrating 30 years of dance, chants and traditions, Halau Hula Ka Noʻeau captivates audiences with their exquisitely artistic and culturally authentic Hawaiian dance performances. Choreographer and cultural historian Michael Pili Pang, presents a new work based on the traditional legends of Hawaiian gods who were revered as heroes and the creators of the Hawaiian Islands. Pang creates innovative choreography that combines traditional hula, music and chants into high artistic expression.
---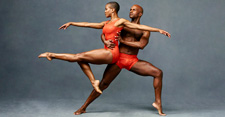 Tuesday, April 25 at 7:30 p.m.
Fine Arts Center Concert Hall
Experience the power of Alvin Ailey American Dance Theater and see for yourself why this extraordinary company is hailed as America's cultural ambassador to the world. From the pulse-racing thrill of contemporary favorites to the spirit-lifting joy of beloved classics, these extraordinary dancers bring African-American cultural expression and the American modern dance tradition to life. The company has performed for an estimated 23 million people around the globe as well as millions more through television broadcasts.
---
Sponsors
Fine Arts Center Concert Hall
151 Presidents Dr
Amherst, MA 01003