Talich String Quartet
Jan Talich, Jr., violin, Petr Macecek, violin, Vladimir Bukac, viola, and Petr Prause, cello

Beethoven Quartet Cycle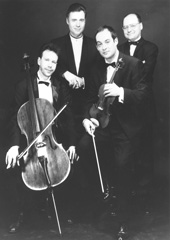 Saturday, November 8, 2003
Bowker Auditorium at 8 p.m.   
$25, $15; 17 and under $10
Five College Students $10, $7
The Talich Quartet has been considered for many years to be one of the world´s finest string quartets. In addition to being famous for their interpretation of Czech music, they have a very wide - ranging repertoire. At the request of Steven Spielberg and the Shoah Foundation, the Talich Quartet recorded the music for the film documentary about Czech holocaust survivors called Hell on the Earth. This concert opens our second of three seasons of the Beethoven Quartet Cycle. In addition to the concert, there will be a pre-concert talk at 6:45 p.m. and Viennese coffee and desserts will be available for purchase.
"The Talich String Quartet from Prague is generally recognized as one of the preeminent ensembles in the quartet world. Its appearance at the Tabaret Hall yesterday was greeted by a capacity audience and, for the most part validated their fine reputation."
- The Ottawa Citizen.
Associated Events
Talich String Quartet pre-talk
November 8, 2003 Bowker Audtiorium
Members of the Talich String Quartet will give a pre-concert talk about their work and the Beethoven pieces to be performed that evening. 7:15PM-7:30PM in Bowker Auditorium
Free and open to that evening's patrons.,
Talich String Quartet Master Class
Saturday, November 8, 2003 UMass Music Department
The Talich String Quartet will conduct a master class for University graduate level string quartets. The general public is welcome to observe. Music Department from 10:30AM - Noon. Exact room location TBD.
Open to all to observe,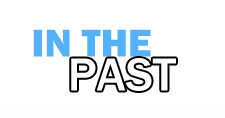 Here is an archive of many of our past events. If you are looking for current happenings at the FAC please go to the home page.
The past events section is updated periodically, very recent past events may not be listed immediately.
To navigate within the past events section:
By Program then by Year
By Artist for Exhibitions
Note these pages are updated every semester.  Not all events or exhibitions will be listed here promptly after they are over.