TAO: SEVENTEEN SAMURAI Artists
TAO was established in 1993 in Aichi prefecture, Japan, with the goal of entertaining the world. In 1995, to pursue an even deeper creative environment, TAO moved to the Kuju area of Taketa city, Oita prefecture, Kyushu Island – the site of the legendary Aso Kuju National Park. Based in Kuju, TAO began the creation of a distinct world of its own, through original theater arts, costumes and more. A production office was established in Kuju to run shows both inside and outside of Japan, as well as market, design and produce video. Then, in 2010 in collaboration with the overseas endeavors of Hakata Ippudo Ramen, a special shop was opened. Fusing food and theater with a Japanese aesthetic, the project conveys the innovative spirit of TAO.
The performers who take the stage for TAO are both highly trained athletes and highly-expressive artists. Melodies of various genres and traditional instruments result in an enchanting scene that only TAO can present, using world-class techniques and specialized knowledge. From 2012, global fashion designer Junko Koshino has collaborated with TAO to unite fashion and entertainment, making an even more sublime performing art.  
When TAO was established, a benchmark goal was also established – one million tickets sold. TAO achieved this in seven and a half years. Then TAO made an appearance in 2004 and 2005 at the world-renowned art and music festival, the Edinburgh Festival Fringe in Scotland, UK. Among the 1,800 groups gathered at the festival, only TAO holds the honor of top ticket sales for two consecutive years. A world tour then began, with headliner shows at arena's in Taiwan for two consecutive years and an appearance at the Vancouver Olympics. During the North American tour, TAO was received with glowing reviews in the media and all 50 shows were sold out.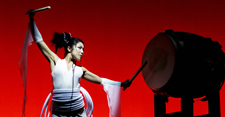 CONNECT