Terry Jenoure: Between Heaven and Earth
An Exhibition of Sound Sculpture and Hand-Sewn Figures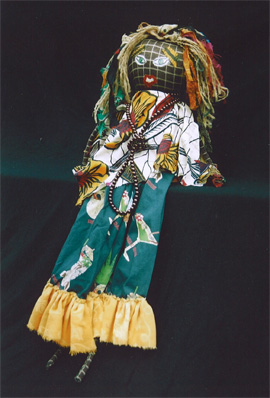 Monday, April 2 - Sunday, April 29, 2007
Hampden Gallery   
Free and open to the public
Between Heaven and Earth is an installation by Terry Jenoure that combines her hand-sewn, soft figures and her original soundscape of multi-track violin and vocal music. Her work is developed through the integrating, molding, and sewing of recycled natural fabrics, buttons, paint, markers, and other found materials. In merging her fabric works with music, the artist has created an environment where these figures, or "Blessings" as she calls them, may live. About these figures, all of which are women, she says, "There are important sounds and feelings in their world. Also, there is something special about the impact they make when they"re grouped. It is a force created by women who dare to be certain and use up all the space!" " Following is an excerpt from an interview with Hampden Gallery director, Anne LaPrade: I make figures with strong inner characters - ones who remind me of those special women born out of my experience. And many of the women who comprise my treasury of wise, honorable, dedicated, humorous, and thoughtful women are the ones I knew as a child. They are women from Jamaica who sometimes visited my nana, Emma Dewar Spence, her friends and family from the old country. They are the women from The Church of the Good Neighbor on 102nd St. in Spanish Harlem. They are women from Puerto Rico who spoke to my grandmother, Jesusa Lopez, in rapid-fire Spanish so we wouldn't catch any of the meanings. These are without exception, women who formed my idea of what it means to make myself known in the world, with poise, compete confidence, and without apology. I thoroughly enjoy the shapes and textures and colors and rhythms, and the combinations and chance occurrences of this work. And, in calling these sewn figures Blessings, I"m referring to the impetus for making them. In fact, I dedicate all the things I make, whether they are dolls, or music or writings, or whether they are friends that I"m making, or food, or plans, or anything large or small, figurative or literal - I make them for Good. I make them to improve upon them. I make them to find grace. I make them to be saved. I make them to experience something extraordinary, again and again. Terry Jenoure, musician, writer, and visual artist was born and raised in the Bronx, New York into a Puerto Rican and Jamaican family. A self-taught doll maker, she has worked in this medium since the mid 1980s. She is also an accomplished violinist and vocalist who began training at the age of seven, she has performed and taught in various capacities throughout the U.S., Canada, Colombia, Brazil, France, Germany, Holland, Italy, Israel, India, South Africa, and Mexico. With Master's and Doctoral degrees in Education, and a Bachelor's degree in Philosophy, she serves on the graduate faculty at Lesley University, and has published one book and numerous articles on the value and nature of creative improvisation and its implications for teaching. A recipient of grants from the National Endowment for the Arts and the New England Foundation for the Arts, she has also been a consultant for the National Endowment for the Arts (NEA), the Lila Wallace Readers Digest Fund, the Ford Foundation, and the Connecticut Commission for Arts and Tourism.
Associated Events
Terry Jenoure: Between Heaven and Earth
Opening Reception
Monday, April 2, 2007 
,5:00 pm to 7:00 pm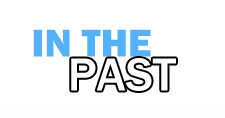 Here is an archive of many of our past events. If you are looking for current happenings at the FAC please go to the home page.
The past events section is updated periodically, very recent past events may not be listed immediately.
To navigate within the past events section:
By Program then by Year
By Artist for Exhibitions
Note these pages are updated every semester.  Not all events or exhibitions will be listed here promptly after they are over.