The Pawn Shop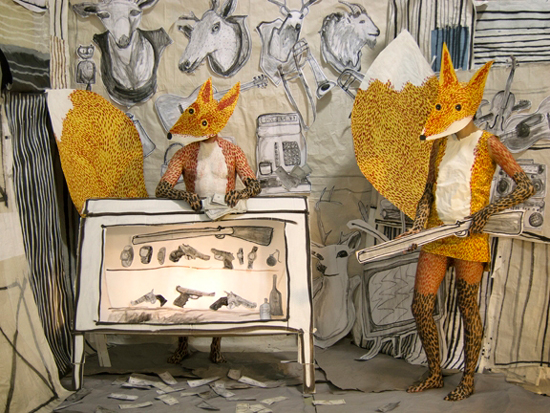 Hampden Gallery
Fox Proprietors
Tim Winn and Zehra Khan
It takes the craftiness of a fox to capitalize and flourish in these dregs of trade.
Opening Reception: Sunday, September 11th from 3 – 5
Exhibition Dates: September 11 to October 6, 2011at Hampden Gallery
All events are free and open to the public.
Gallery Hours: Monday through Thursday: 12PM to 6 PM & Sunday 2 PM – 5 PM
Pawn Shop: Fox Proprietors, consists of a pawn shop with all it's inventory created out of paper. Costumed human-foxes are the owners of this den of refuse commerce, their interaction with the space captured through accompanying photographs and a film.
Artists' Statement
The Pawn Shop – Fox Proprietors combines Tim Winn's paper architecture with Zehra Khan's costuming and performance. Exploiting and subverting the limitations of two-dimensional drawing, they fabricated a storefront from paper and wood. Shop inventory was constructed by manipulating the artists' small-scale pen and ink drawings though a process of photocopy enlargement. Zehra Khan's fox-humans, proprietors in this strange world of refuse commerce, activate the space.
Tim Winn and Zehra Khan explore notions of the commercial and sentimental value of objects and the negotiable value of drawing and art. The pawnshop is a marketplace of desperation, into which one enters when money is more necessary than possessions. It takes the craftiness of a fox to capitalize and flourish in these dregs of trade.
About Tim Winn & Zehra Khan
The Pawn Shop – Fox Proprietors is another example of collaborative work by Tim Winn and Zehra Khan. In the past two years they have exhibited together at the Worcester State University, the Cape Cod Community College, and Gallery Ehva in Provincetown. Tim was featured in 2011 New American Paintings – Northeast Edition, and Zehra is currently part of the NYC Drawing Center Viewing Program. Both residents of Provincetown, Tim and Zehra continue to pursue their own artistic practice as well as their collaborative work.
www.zehrakhan.com and www.folkdevils.com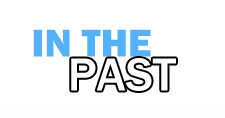 Here is an archive of many of our past events. If you are looking for current happenings at the FAC please go to the home page.
The past events section is updated periodically, very recent past events may not be listed immediately.
To navigate within the past events section:
By Program then by Year
By Artist for Exhibitions
Note these pages are updated every semester.  Not all events or exhibitions will be listed here promptly after they are over.
More Information
Hampden Gallery Hours:
Tuesday through Friday: 1 PM to 6 PM
Sunday 2 PM – 5 PM
We are closed for academic breaks (Thanksgiving, Christmas, Spring Break, Summer) and state holidays
Contact Information:
Main Number: (413) 545-0680
Gallery Director, Anne LaPrade Seuthe
Gallery Manager, Sally Curcio