The Star Keeper
Performed by Theatre de l"Oeil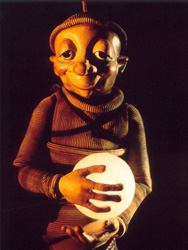 Wednesday, October 15 - Thursday, October 16, 2003
Bowker Auditorium at 7:30 p.m.   
$25, $15; 17 and under $10
Five College Students $10, $7
Théâtre de l"Oeil remains faithful to its artistic vision with The Star Keeper, a show without words for general audiences ages 6 years and up, that combines visual poetry, music, and fantasy. Using a variety of puppet styles, Star Keeper tells the story of Pretzel, a friendly character whose chivalry draws the audience into a fabulous adventure of returning a star back to the sky. To return the star to its proper place, Pretzel must climb a spider's thread, cross the dormitory of dreams, dive to the ocean depths in pursuit of a pearl-fish, and resist the bewitching charms of the bubble tamer. The Star keeper has received numerous awards, including the 2001 Chalmers Canadian Play Awards: Theatre for Young Audiences.
"... a striking display of highly skilled, creative puppetry and clever storytelling by Mr. Laliberté and his colleagues Richard Lacroix and Richard Morin. The Star Keeper is at its most enchanting in its depictions of the starry heavens, and at its most ingenious in the events and characters that appear in the sequences that take Pretzel beneath the sea."
-The New York Times.
Associated Events
Puppetry and Scenic Design Presentation
October 15, 2003 Bowker Auditorium
Graham Soul, a puppeteer with Theatre de l'Oeil will conduct a puppetry master class and presentation for UMass Theater majors from 4PM - 5PM.
This event is open only to University Theater majors.,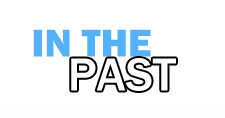 Here is an archive of many of our past events. If you are looking for current happenings at the FAC please go to the home page.
The past events section is updated periodically, very recent past events may not be listed immediately.
To navigate within the past events section:
By Program then by Year
By Artist for Exhibitions
Note these pages are updated every semester.  Not all events or exhibitions will be listed here promptly after they are over.