Tuesday, April 2, 7:30 pm
Fine Arts Center Concert Hall
Les Ballets Trockadero de Monte Carlo, or "The Trocks," have taken a playful approach to classical ballet since 1974. One part parody and one part loving homage, The Trocks simultaneously honor the traditions of ballet with high-level performance while also poking fun at the conventions that define ballet. An all-male company, The Trocks revel in playing with gender roles and identity. As a 40-year old company, the Trocks illustrate how decades of exploring and challenging a genre can still be fun and celebratory at the same time.

$45, $35, $20; Five College Students and Youth 17 and Under: $10; Under40TIX $25
Prix fixe dinner available at the University Club before the concert. Details at fineartscenter.com/prixfixe. 
Academic Connections: Anthropology, Communication; Dance; Health Promotion & Policy; Kinesiology; Nutrition; WGSS
See all the
Course Connections
Share this event!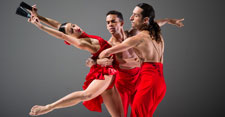 Thursday, April 18, 7:30 pm Fine Arts Center Concert Hall
For this appearance, Ballet Hispánico brings an all-Latina choreographer program, exploring iconic Mexican symbols, the circularity of the human condition and the hallmark passion of flamenco dance.
---