Truth and Folly
Incubator Project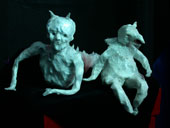 Monday, November 1, 2004
Hampden Gallery Lobby   
Artist Statement B. Lynch The concept of human folly has been fueling my artwork for the last dozen years. I have taken Erasmus, the Renaissance humanist as my guide. His Praise of Folly written in 1509 introduced me to the complexities of the topic. I believe that folly is the quintessence of being human. What do I mean by that? Humans are capable of good, ridiculous and sublime actions. We also are able to do evil, brutish and beautiful deeds. Our humaness rests in our ability to make choices among these possibilities. We make our choices, we live our lives and then we die. This is th e truth of human existence. My installation is a metaphorical exploration of human nature and our journey th rough life. Like the seasons of the year we travel from fresh-budded innocence to a wintry decline. My cast of characters, made from mixed media, role-play many of the choices we all face. Like Shakespeare I enjoy equating life with the stage, and like him I remember that our lives are ONE PERFORMANCE ONLY, and urge us all to make the most of our brief time upon the boards. Folly is art and life, an d ultimately about risk-taking. "Nothing will ever be attempted if all possible objections must first be overcome" (Samuel Johnson). Folly is what makes us human. If we all play it safe, we cease to live. I make art to celebrate life.
Associated Events
Truth and Folly Opening Reception
Monday, November 1, 2004 
,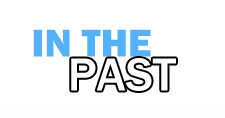 Here is an archive of many of our past events. If you are looking for current happenings at the FAC please go to the home page.
The past events section is updated periodically, very recent past events may not be listed immediately.
To navigate within the past events section:
By Program then by Year
By Artist for Exhibitions
Note these pages are updated every semester.  Not all events or exhibitions will be listed here promptly after they are over.