Uri Caine Ensemble
Performing Bach's "Goldberg Variations"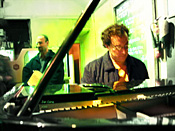 Sunday, February 17, 2002
Buckley Recital Hall, Amherst College, at 8 pm
$9 for the general public; $6 for students
Additional support from: Dynamite Records, Campus Center Hotel and 88.5 WFCR.
The Magic Triangle Jazz Concert Series, produced by WMUA, 91.1FM and the Residential Arts Program of the Fine Arts Center at the University of Massachusetts at Amherst, is proud to announce its 13th season. "Roll over Glenn Gould and tell Gunther Schuller the news," writes Jim Macnie in Downbeat about Caine's 1999 Winter & Winter recording of Bach's masterpiece. "On what has got to be one of the year's best records, expanse, authority and imagination are in full alignment. Drinking songs, poetry, klezmer, chamber, freebop, turntablism, gorgeous chorales and David Moss' tongue-twisted blather are all part of Caine's grand scheme." Born in Philadelphia, Caine studied piano with the brilliant French pianist, Bernard Pfeiffer, and later at University of Pennsylvania with George Rochberg and George Crumb. Concurrently, Caine was performing with jazz greats like Joe Henderson, Freddie Hubbard and Benny Golson, in and around Philadelphia. The Penguin Guide to Jazz called Caine's first recordings as a leader, Sphere Music (1992) and Toys (1995), "two excellent albums. It would be hard to look for two more confidently inscribed visiting cards than these discs."
Funded by: the Umass Arts Council, Student Affairs Cultural Enrichment Fund, Alumni Association, Student Government Association, Commuter Area Government and the Fine Arts Center.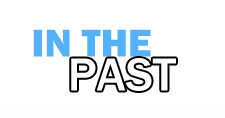 Here is an archive of many of our past events. If you are looking for current happenings at the FAC please go to the home page.
The past events section is updated periodically, very recent past events may not be listed immediately.
To navigate within the past events section:
By Program then by Year
By Artist for Exhibitions
Note these pages are updated every semester.  Not all events or exhibitions will be listed here promptly after they are over.