Jason Vieaux
Performance: Tuesday, April 4, 2017 at 7:30PM
Bowker Auditorium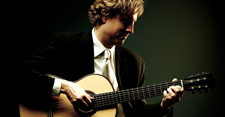 Presented in conjunction with ¡Guitarra!
Jason Vieaux is the winner of the 2015 Grammy for Best Instrumental Classical Solo for his acclaimed recording, PLAY. "If you ever want to give a friend a disc that will cement his or her love for the guitar, this is a perfect candidate," writes Soundboard Magazine, while NPR lauds Vieaux as "perhaps the most precise and soulful classical guitarist of his generation." A classical guitarist that goes beyond the classical, Vieaux has earned a reputation for putting his expressive gifts and virtuosity at the service of a remarkably wide range of music.
Ticket Prices
$35, $20; Five College Student & Youth 17 and Under: $10; Five College Faculty & Staff: Please call the Box Office

Tickets on Sale Now!
Master Class Presentation with Jason Vieaux
Monday, April 3, 2017 at 7:30PM
The Eric Carle Museum of Picture Book Art
Jason Vieaux will conduct a master class open to the public.  Enjoy
the interaction between this acclaimed musician and selected 
New
England classical guitar students.  This is a unique experience where
one can observe the particular challenges of playing 
classical guitar
and of musical interpretation as the students are guided by a master
of the instrument.

"

Hearing a high level player coach the students

brings things in the music to your attention that you didn't hear

before. 
When the student responds to the coaching, it is amazing to hear the difference from the initial performance."
                                                                                   - Ronna Erickson, ¡Guitarra¡ Committee

Master Class Observer Ticket: $15 General Admission •  Buy Master Class Tickets NOW
Sponsors