YAMATO: ROJYOH – THE BEAT ON THE ROAD
20TH ANNIVERSARY TOUR
Thursday, November 14, 7:30p.m., Fine Arts Center Concert Hall
$40, $35, $15; Five College/GCC/STCC Students and Youth 17 & under: $10


With a great sense of rhythm and superb choreography, Yamato will take you back to the very beginning of life in tamashy - when the heart beats for the first time. Precision, grace, and power mark Yamato's acclaimed performances, connecting ancient and modern drumming traditions to create an exhilarating evening of sound and sight. So fasten your seatbelts and let your heart race with the beats!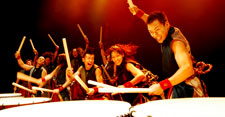 Connect