YAMATO: ARTISTS
Yamato was founded in Japan's Nara Prefecture in 1993. The troupe has given over 2,500 performances in 51 countries and regions. Every year, Yamato tours the world for 6 to 10 months, creating and presenting original Yamato compositions and stages. As a result of this relentless tour schedule, pursued over more than 10 years, audiences around the world await Yamato's arrival every year in growing numbers, sustaining and encouraging their efforts more than words can express.For the players of Yamato, every encounter with listeners is a unique and precious experience. Their greatest goal is to send audiences home after each performance with a new vitality and passion for life. As they continue to tour and perform throughout Japan and around the world, whether in concerts, classrooms, school assemblies or workshops, the troupe continues to cherish and uphold Yamato, the spirit of Japan.
In celebration of 20 amazing years, Yamato- The Drummers of Japan want to mark the occasion with a special anniversary tour hits the road in 2013. Their fans all over the world can now experience the spectacular celebration of "路上 (ROJYOH)", which means "on the road", a special tour that includes Yamato's most memorable performances. Twenty 20 years is a long time. Yamato was born in the Japanese prefecture of Nara. Originally they were supposed to perform one only song for their shrine's small festival. However, since then Yamato has received calls from all over the world which gives them the opportunity to work, run, sit, eat, dream and drum on the road. This will be a once in a lifetime performance to treasure for the next 20 years. Yamato will remember the sound of their footsteps behind them. Yamato wants people to feel the vibration of the ground. And above all, Yamato wants to prove that we are alive.

ON THE ROAD
As we come to a sudden stop on a road somewhere,
We hear the footsteps of the passing days behind us.
The cold wind blows past our ears and
We are enveloped in a dignified silence.
We look at our feet and then direct our gaze towards the future that stretches off into the distance.
We slowly start to walk.
The sound of tramping reverberates on the hard earth.
We have a keen and certain sense of being there in the moment.
We feel our heart rates increase to overlap with the beat of our footsteps.
The reverberations that slowly begin to radiate from our bodies overlap with those of the people we are walking with and resound even louder on the earth.
This is our Yamato beat.
Yamato is the sound of planet earth.
The proof that we are alive and should be loved
This explosion of noise is sometimes a shock to the system!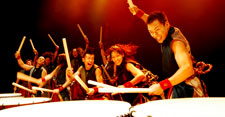 Connect