Yun-Fei Ji: Migrants, Ghosts, and the Dam
January 22 – March 8, 2015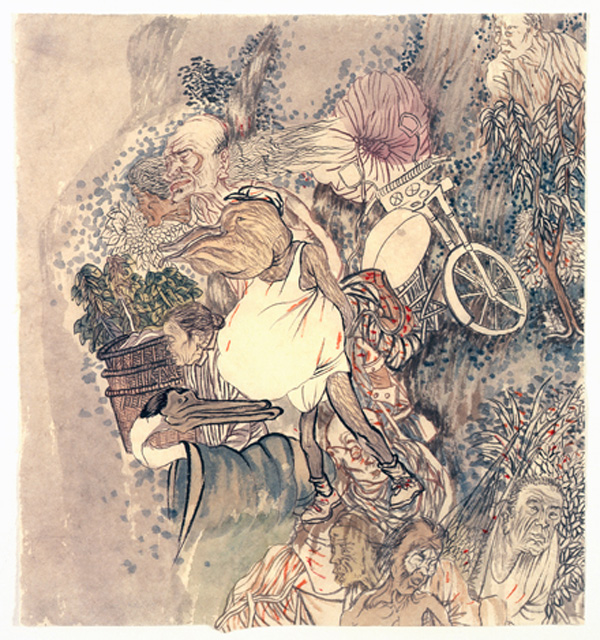 Yun-Fei Ji, Man with a Large Mouth,  2009, Ink on Xuan paper, 15 1/4 X 14 in,. Collection of Carolyn Hsu and René Balcer   


The celebrated Chinese artist Yun-Fei Ji is known for his masterful use of traditional ink painting, on handmade rice paper with translucent ink or paint based on natural pigments. His draftsmanship draws on centuries old techniques, including calligraphy. His subjects evoke traditional Chinese landscape painting: figures and scenes recall tales and epics from Chinese folklore and history. His work echoes the oeuvre of the ancient Dynasty Masters, whose paintings combined compositional and technical brilliance with expression of sorrow and melancholy, conveying an underlying political message. Yun-Fei Ji still depicts the internal difficulties of the Chinese culture, e.g. building a dam and the risks and human sorrow involved, or the failure of the communist utopia. Those social subjects give cause for the illustration of personal and symbolical fantasy, and more global, existential human tragedy and beauty. The artist borrows past events to comment on present problematic developments. Yun-Fei Ji's works are particularly layered as they are hybrid compositions of historical narratives and autobiographical notes.
This exhibition features a number of Ji's major works created during the past decade, including several scroll paintings more than ten meters long, which have never before been seen together.
Trained at the Central Academy of Fine Arts in Beijing, Yun-Fei Ji emigrated to the U.S. in the late 1980s and made his artistic name working in Brooklyn and showing in a thoroughly international context. His painterly lens switches freely between his two homelands, with some works addressing American disasters, such as Hurricane Katrina, while others look at the Three Gorges Dam and the North-South Aqueduct in China.
Yun-fei Ji's residency is supported by the Class of 1961 Artists Residency Fund. Additional support comes from the Friends of the Fine Arts Center.  The UMCA thanks James Cohan Gallery, New York and Shanghai, for their facilitation of the exhibition and generous sharing of information.

 
Contact
Open
Tuesday-Friday:
11am to 4:30pm
Saturday & Sunday:
2pm to 5pm
Open until 8 PM every first Thursday of the month
Closed
Mondays
Academic Breaks
State Holidays  
Contact Us
Main Number
(413) 545 3672
 
Connect



February 16 - 20, 2015
Reception for the Artist
February 17, 2015, 5 –7:00 p.m.
Yun-Fei Ji and Christine Ho (Assistant Professor, UMass Art History) in conversation at 5:30 p.m.
Film Screening
Wednesday, February 18, 2015, 7:00 p.m.
Flavin Auditorium (School of Management 137)
Still Life (Good people of the Three Gorges), 2006, 111 min., subtitles
A Chinese film directed by Jia Zhangke
Winner of the Golden Lion Award for Best Film, 2006 Venice Film Festival
Christine Ho will introduce the film / Comments by Yun-fei Ji after the screening
Co-sponsored by the Massachusetts Multicultural Film Festival and the Interdepartmental Program in Film Studies at UMass Amherst.